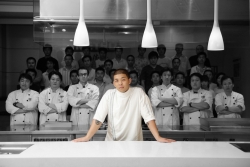 Beijing, China, July 18, 2008 --(
PR.com
)-- From Winnipeg, Canada to Beijing, China, Chef Makoto Ono embarks on his own Olympic journey with the opening of Makoto. Blending French technique with traditional Japanese cuisine, Chef Ono manifests such creations as 'Seared Foie Gras - caramelized mango, BBQ unagi with a teriyaki reduction' and 'Kanpachi Sashimi - salad of mushrooms and radish with truffled ponzu sauce.' Makoto is about to change the Beijing culinary landscape.
Redefining China's fine dining experience, Makoto will feature Omakase, a Japanese style of ordering. Omakase is about entrusting the chef, and this trust is carried through by Chef Ono's respect for both the ingredients and his diners. Chef Ono emphasizes the importance of fresh seasonal ingredients used at its peak. "Personal cuisine," as he would call it, is rich and bold, yet simple and clean - a beautiful balance attributed to his classic French training and his Japanese culture.
A culinary boy wonder, Chef Ono rose through the ranks at his father's Japanese restaurant from dishwasher to sushi chef. It was during college that the former art student first identified food as a medium of art. Embracing his natural culinary talents and his newfound inspiration with food, he entered the famed Dubrulle Culinary Arts Institute in Canada to study classic French cooking. He went on to train with Jean-Georges Vongerichten and Marco Pierre White at their respective Michelin worthy establishments in London, Vong and Mirabelle. With his distinct culinary approach and impressive experience under his belt, Chef Ono is ready to take on this Olympic mission of his this year.
Since his crowning as Canada's Culinary Champion, Chef Ono has spent this past year fundraising for Canada's Olympic athletes. With just weeks away from the start of the Beijing 2008 Olympic Games, Chef Ono's dream to be a part of the Olympic action is finally becoming a reality. The opening of Makoto is a fundamental stepping-stone for Beijing in its goal towards becoming a world cosmopolitan city.
East of Tiananmen Square, Makoto is located at Central China Place, designated by the Beijing Government as one of six official high-end luxury districts. Makoto will premiere with a private opening on July 28, 2008 and will be opened to the public on August 25, 2008.
###