Terra Cotta Inn, Palm Springs, CA Selected as One of the Top Ten Best Clothing Optional Resorts in the World by TripAdvisor.com
Clothing optional vacationers have many choices of destinations to travel to soak up the sun around the world. The best nudist resorts used to be in the Caribbean and Europe. Times have changed. According to TripAdvisor.com, America now has two of the best nude sunbathing hotels. And The Terra Cotta Inn clothing Optional Resort and Spa located in sunny Palm Springs, CA is ranked as one of the 10 best.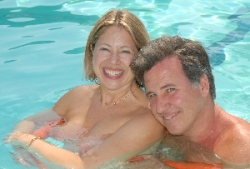 Palm Springs, CA, July 22, 2008 --(
PR.com
)-- On July 15th, 2008 TripAdvisor.com, the world's largest travel community announced the top 10 best clothing optional resorts in the world according to traveler popularity and the TripAdvisor editors. The Terra Cotta Inn Clothing Optional Resort and Spa
http://sunnyfun.com
located in sunny Palm Springs, CA was one of the popular nudist resorts that was selected.
Tom Mulhall, owner of The Terra Cotta Inn along with his wife Mary Clare had this to say, "We are honored to be selected as one of the 10 best clothing optional resorts in the world by our guests and the Trip Advisor editors. If there was an award for the best guests in the world, ours would easily win it. Whenever we personally take a vacation, we always use Trip Advisor to plan where to stay, where to eat, and things to do. This site is indispensable to travelers."
Tom continued, "unfortunately, many people are under the wrong impression that all nudist resorts are the same and that they are only for "card carrying" nudists and naturists. This just isn't true. The Terra Cotta Inn caters to first timers and repeat guests. We are called the most mainstream nudist resort in America and perfect for couples trying topless or nude sunbathing for the first time."
First timers are always very nervous about booking their first clothes free vacation. Picking the right nude hotel or resort is very important. There is never any pressure to disrobe immediately at Terra Cotta like there is at many other nudist resorts. Women are always more then welcome to start with European style sunbathing which is topless sunbathing first.
Because the Terra Cotta Inn is relaxing, pampering, stress free, and most importantly fun, guests from around the world travel there for their first clothing optional vacation.
Part of the popularity of The Terra Cotta Inn is it has all the amenities that you would expect at a regular boutique resort. Designed by the famous architect Albert Frey, this nudist resort is a historic midcentury modern designed building. Originally built for celebrities, with its spacious rooms and high walls and privacy, it is the perfect spot for nude sunbathers.
They have amenities such as free wifi, free parking, top of the line king sized beds and linens, delicious complementary breakfast and afternoon snacks, state of the art salt water pool and whirlpool (where the water feels heavenly on your bare skin), poolside cooling system, complementary Starbucks or Godiva blend coffees, and much, much more. It is no wonder that Terra Cotta has one of the highest repeat guest rates in the travel industry at just over 75% repeat guests.
Guests love vacationing in Palm Springs. As the sunniest city in America, it rarely has a bad weather day. Averaging 350 days of sunshine and less then 3 inches of rain a year, there is no other resort destination in the world where you are almost always guaranteed perfect sunny weather.
As Michele Perry, vice president of global communications for TripAdvisor said, "For travelers, a great vacation is all about escaping the confines of their homes, for others it is best achieved by escaping the confines of their clothes."
If you want a fun vacation at one of the 10 best clothing optional resorts in the world according to TripAdvisor.com, give Terra Cotta Inn a call at 1-800-786-6938. Travel to Palm Springs, CA where funny tan lines will soon just become another pleasant memory. You will love your first clothing optional experience there.
###
Contact
The Terra Cotta Inn Clothing Optional Resort and Spa
Tom Mulhall
1-800-786-6938
http://sunnyfun.com

Contact