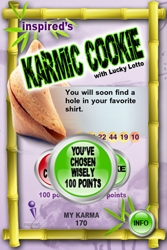 Irvine, CA, July 30, 2008 --(
PR.com
)-- Inspired's "Karmic Cookie" is filled with over a thousand unique bits of wisdom from all over the world. Take a step towards enlightenment with some of the Karmic cookies witty and sometimes irreverent and hilarious fortunes? Want to see more and more? Just shake your iPhone or iPod touch and voila, inspiration at your fingertips.
Inspired's Karmic Cookie™ is entertaining and inspirational. Careful – there is a lot of karmic comedy fodder to be found on the road to enlightenment and you could lose Karma points if you don't chose wisely. Become a guru or reach for personal divinity. Karmic Cookies – 100% inspiration, zero calories. Be inspired... Be very inspired.
Rev 1.2 Upgrades: Karmic Cookie has over 1,000 unique fortunes, plus the new Lucky Lotto number generator. The new game play point and bonus system will help you reach "enlightenment." The game now includes: new reward icons, graphics, sound track all with improved accelerometer performance.
Inspired Arts has been producing digital media for 15 years in southern California for major entertainment companies. PGA member.
Inspired Arts & Media, LLC
www.inspired.com
Fax:(949) 559.5533
Ph. (949) 733-9331
Contact: Kevin Kent
Karmic@inspired.com
###