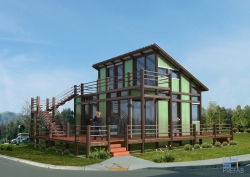 Irvine, CA, August 01, 2008 --(
PR.com
)-- MHS Aluminum Building System Meets LARR Requirements/
US Systems LLC, developer of MHS prefab technology is pleased to announce that it has received the final code approval for the use of MHS Structural Insulated Panel Frame Assemblies from the Department of Building and Safety, Engineering Research Section of City of Los Angeles.
Los Angeles Research Report: RR# 25703
MHS successfully passed all necessaries testing and engineering analysis of this new prefabricated aluminum building system based on ASTM and ICC acceptance criteria at Smith Emery laboratory Los Angeles, one of the most important certified testing facilities in United State.
MHS frame, shear walls, diaphragms technically now certified and analysis by officials and can be use with seismic design categories base on international building codes (IBC 2006), Aluminum Design Manual (ADM), ASCE 7-05 American Society of Civil Engineers and meet the California earthquake requirements.
MHS prefab-Structural Insulated Panel Frame Assemblies recognized and will be limited to the following items:
Structural capacity of wall, floor and roof assemblies consisting of an aluminum frame with infill SIPs. The structural capacity of the SIPs with EPS Foam as the core materials used as infill panels in the MHS aluminum frame will be limited to resist out-of-plane (walls, roofs, and floors) and in-plane loads (MHS-shear walls only). The axial loads on the walls will be resisted by the MHS aluminum framing members acting as posts and beams.
Transverse Loading Capacity of Walls, floors, roofs module easily can transfer the total force of winds in maximum considered basic wind speed in IBC2006 equal to 170 mph.
MHS aluminum construction is now an approved product for use within California and in other regions adopting the stringent review and approval process defined by the county building code office prior to use in building construction or rehabilitation.
US Systems LLC, a California company is the original designer, developer and manufacturer of MHS aluminum building system that's assembled on site using our exclusive patented Modular Aluminum Extrusions and its interlocking connection system in conjunction with Structural Insulated Panel (SIPs).
MHS prefabricated modular aluminum building structure easily could be mounted and dismounted. Can be moved from location to location, saving time and money in construction costs. Creating temporary or permanent quality green building structures any sizes for multifunctional uses in commercial and residential constructions. The MHS buildings are of comparable or superior quality to those constructed by conventional methods. It is another alternative for building products and construction methodology. Easy to learn, design and build a true waste free modular structure. MHS aluminum structure's weight is 1/3 of I-beam steel structure and 1/15 of concrete structure which reducing total building weight and seismic loads.
MHS aluminum building system allows modular manufacturers, developer, contractors, engineers, designers and architects to build any custom modular homes, modular multifamily apartments from a simple studio, kit house, and camp house to a highly customized contemporary residential and commercial structure.
US Systems invites you to become MHS fabricator licensed or certified builder.
For more information on MHS and its products visit:
www.modularhousingsystem.com
Contact:
Tim Siahatgar, Inventor
Modular Housing Systems (MHS prefab)
FAX: +1-949-266-8925
Email: office@modularhousingsystem.com
###