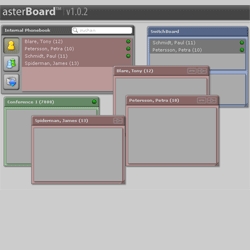 Vienna, Austria, August 01, 2008 --(
PR.com
)-- ZaKoTel GmbH presents the first product of the asterTools™ Suite.
The development of PBX installations took a rapid change in the last years, conventional PBX installations are more and more replaced by the free Open Source variation of Asterisk®. The visualization of telephone calls gave the traditional manufacturers an advantage compaire to the Open Source Software. From now on, the situation looks different.
asterBoard™is a browser-based solution for visualization and call management. It makes use of the freely available Asterisk® OpenSource PBX and can be integrated into existing VoIP environments based on Asterisk® within minutes by experienced administrators without any major difficulty.
asterBoard™is the best solution for phone operators, the fast search function inside the Company phone book makes it easier to mediate the phone conversations, the visualized meeting rooms, call-ques and extensions can be administrated per drag and drop in Real-time. An API offers the possibility to integrate company phone books and/or databases from contact-center within minutes.
With the asterBoard™, ZaKoTel introduces an optimal and efficient solution for office and company switchboards. By using most recent Web 2.0 technology, the solution is platform independent and can be run on Windows, Linux and Mac OS-X desktops.
asterBoard™ is being delivered in English and German, Spanish and French translations will be available in the next days.
Appliance manufacturers have the possibility to integrate the asterBoard™ as a white label Solution in there products.
Comprehensive description, free download and a forum for the products of the
asterTools™ Suite are available at:
http://www.astertools.com
About ZaKoTel Telekommunikations GmbH:
ZaKoTel Telekommunikations GmbH, located in Vienna/Austria, is developing and integrating solutions around Asterisk® OpenSource PBX since 2006. The combination of traditional telephony and VoIP is the primary goal of ZaKoTel.
Further information about the company as well as downloads can be found at:
http://www.astertools.com and http://www.zakotel.com
###