Disc-Golf Legend, Ralph Williamson Adopts Toobee® the Amazing Flying Can for Fun and Demonstration
Longest going unknown fad in the world that is helping children.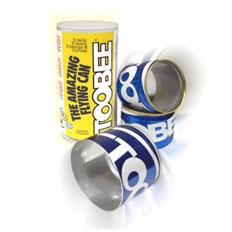 Sussex, WI, August 04, 2008 --(
PR.com
)-- Ralph Williamson, Legendary World Frisbee® Champion (WFC) and 10-time World Professional Disc Golf Association (PGDA) Champion, has been using Toobee® as part of his skills demonstration. "Toobee® is a fun toy that truly amazes viewers each time I toss it," said Williamson. "I can throw it one way and it flies straight as an arrow. Or, with a slight adjustment, the toy swoops and curves floating on the air like a bubble on a string".
Designed by two aeronautical engineers, the patented high-tech aluminum airfoil is only .005 inches thick and weighs less than 3 grams.
Toobee can be tossed for distance, accuracy, fun, or competition. Just grip it and throw Toobee with a spin like a football. The world distance record is 283 feet -- not bad for something that weighs less than a marshmallow.
Many Frisbee® games can be played with a Toobee® too. For example, Williamson uses Toobees to play Toobee-golf. "Use the same rules as disc-golf, but instead of using a Frisbee, use a Toobee. It makes for a fun alternative and changes things up a little." "Anyone who loves Frisbee® will enjoy playing with Toobee®".
"Although I'm a Frisbee® addict at heart, Toobee® gets my vote as a fun alternative," , added Williamson.
The toy is designed for ages 6 to 106 and can be played alone, with the family, or with a group of friends. It has no sharp edges and is safe indoors or out.
In contrast to many toys on the market today, Toobee is made in the USA. It is 100% recyclable making it a "green toy. It even comes with a lifetime guarantee.
Greg Stromberg, President of Toobee International said about Toobee, "It's a toy that turns heads and creates good, clean fun wherever it goes. It brings people together. And is the perfect cure for sedentary lifestyles." "Ultimately, I want Toobee to be able to make a difference in society. To bring about positive change." Stromberg added. In keeping with that goal, 100% of all profits go to select children's charities worldwide.
At present time, Toobee is available via the Internet, and mail order. A 2-pack with protective storage/carry case is around $14.95.
Williamson, 78, is a retired Boeing Engineer and lives in Seattle, Washington.
A 10-time World Professional Disc-Golf Champion, he recently sold one of the largest known Frisbee® collections in the world—with more than 3800--discs the only Frisbee museum in the world open to the public. Williamson wanted someone else to enjoy the "museum collection" because at his age, it was time to place it with the right owner who would appreciate it as he did. He found the buyer in California who would do so. Each disc had a handwritten number on the back that was linked to a computer database listing every Frisbee in his collection by manufacturer, model number, description and weight to the nearest gram. He wrote for several Frisbee-related publications, 1,200 back issues of which he enjoyed as part of the museum.
Toobee International is the manufacturer of Toobee® the Amazing Flying Can. Based near Milwaukee, Wisconsin, the company specializes in the development and marketing of fun-based ideas. For more information, or to see Toobee in action, visit the Company's website at:
http://www.toobee.com
###
For more information, contact: www.toobee.com
Contact
Toobee International Inc.
Greg Stromberg
262-246-8480
www.toobee.com

Contact