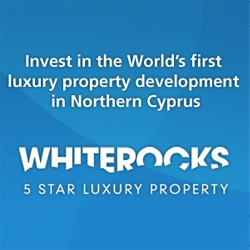 London, United Kingdom, August 05, 2008 --(
PR.com
)-- Despite the current climate in the UK market, developers are leading the way in North Cyprus where the market is poised for massive growth.
The UK housing market is in a state of near collapse and recent negative press about the viability of some holiday homes in Northern Cyprus has cast a shadow over the property market abroad. However Blue C developments are defiantly spearheading the creation of a high quality
Cyprus Property Investment
.
There has been some confusion regarding the ownership of land in North Cyprus and conflicting stories have been deterring potential buyers. Blue C are working in partnership with Whiterocks to create luxurious holiday apartments - their ownership of land is acknowledged as entirely legitimate.
The Whiterocks resort site in Bafra is deemed as Exchange title land. Esedger Title (exchange title) is land that was originally owned by a Greek Cypriot prior to 1974, with title deeds which were issued by the North Cyprus government post 1974 to a Turkish Cypriot refugee from the south. The Turkish Cypriot refugee effectively swapped the land he owned in the south for the equivalent value of land in the North. Under the Annan Plan an individual who now owns or purchases exchange land is considered to hold the same legal rights as the original Turkish Cypriot refugee, the Annan Plan expressly acknowledges there can be legitimate dealings with this title.
Located in sunny and picturesque Northern Cyprus, the Whiterocks resort is undertaking the creation of beautiful, sophisticated apartments which offer the ultimate in luxury and fine-finish whilst melding in with the original architectural styles of the island. Cyprus is the largest of the Mediterranean islands yet it remains reasonably undiscovered by tourists, its popularity is however growing and house prices are set to rise swiftly in the future… is seems that now is in fact the perfect time to invest in a piece of holiday heaven.
The apartments – which boast five star quality from start to finish - are to be located in Bafra, a calm village and area of tourism supported and funded by the Turkish government. Close by idyllic white beaches and clear seas, the area is set to include a Marina, extravagant shopping centre, beachside tropical gardens, parks and a golf course. The unspoiled coastline provides coves, seaside bars and restaurants, water sports, fishing and great opportunities to explore the sea life.
Savills, the renowned British estate agent, has also been selling apartments built on Exchange title land, which supports the credibility of the Whiterocks project; however Blue C were the innovators, developing property in Northern Cyprus well before Savills discovered the opportunities it presented.
House prices in the North of Cyprus are still remarkably lower that those in the south and many other holiday destinations in Europe, these newly developed apartments provide a good opportunity for a shrewd investor or just a gorgeous home for someone seeking unforgettable holidays.
###