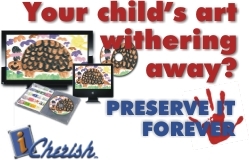 Ann Arbor, MI, August 07, 2008 --(
PR.com
)-- Most of us have this heart-breaking moment when your child proudly brings home a newly created art project and for lack of wall space or other reasons we just chuck-it aside. Only to later inconspicuously whisk it off to the box in the garage, basement or attic where you already have piles of other crinkly, odd sized art projects accumulated over the years. Disappointing your child is an understatement, who wanted you to prominently display it in your home for everyone to see and admire? Heaven help you if you disposed any of it, if it doesn't already, it may come back to haunt you one day. Other times chance takes a toll on these treasures, such as a flooded basement or worse yet a fire or natural disaster and these treasures are gone forever.
With the help of Mixed Media's iCherish service you are now able to display your child's precious creations without limitations, view them anytime from anywhere and preserve forever. Share the masterpieces at a moments notice in your living room with family and friends on your TV, or better yet on your flat-screen in glorious eye-popping High Definition. iCherish production professionals will digitize your children's sketches, paintings, doodles and drawings. Professionally design them into crystal-clear online and offline slideshows and multimedia presentations that leap from the screen.
The service creates a custom web page for a child's artwork with an online gallery, thus preserving what most parents already do anyway — keep their child's artwork. Parents have the choice of inviting other family members and friends to view the presentations. Sharing accomplishments across the globe is no longer a problem either. You can also choose to make artwork part of a public library and invite comments from peers and admirers. Boost a child's self-esteem knowing that they're among a group of other kids showing their hard work on the Web.
The process is straightforward, you place the order online, download instructions and the necessary forms to get the process started. Then send in your art work to iCherish and each piece of art is scanned or photographed, color enhanced, mishaps corrected (tears in pages, etc). iCherish uploads the art on the web which you can then view in your child's private online gallery. Upon completion your art is sent back to you with a CD or DVD containing the digitized versions, or you can choose for iCherish to destroy the originals.
"The service is so simple but yet beautiful. It taps into the desire of parents to keep everything their precious one does but without the clutter." explains Matti Lahtinen, founder and CEO of Mixed Media and iCherish. You can mail in all selected art pieces for a grown child or create yearly DVD volumes containing all the art from a particular school year for younger children. Sibling discounts are offered as well as other services such creating a screen saver of the art for mom's or dad's office computer. The service also makes a wonderful gift for an already grown child to share with his loved ones. Check it out at iCherishCo.com.
###