ConocoPhillips is an international, integrated energy company. It is the third largest integrated energy company in the United States, based on market capitalization, oil and gas proved reserves and production; and the largest refiner in the United States. Worldwide, of non-government controlled companies, ConocoPhillips has the eighth largest total of proved reserves and is the fourth largest refiner in the world.

ConocoPhillips is known worldwide for its technological expertise in deepwater exploration and production, reservoir management and exploitation, 3-D seismic technology, high-grade petroleum coke upgrading and sulfur removal.

Headquartered in Houston, Texas, ConocoPhillips operates in more than 40 countries. The company has approximately 35,800 employees worldwide and assets of $93 billion. ConocoPhillips stock is listed on the New York Stock Exchange under the symbol "COP."

The company has four core activities worldwide:

- Petroleum exploration and production.
- Petroleum refining, marketing, supply and transportation.
- Natural gas gathering, processing and marketing, including a 30.3 percent interest in Duke Energy Field Services, LLC.
- Chemicals and plastics production and distribution through a 50 percent interest in Chevron Phillips Chemical Company LLC.

In addition, the company is investing in several emerging businesses — fuels technology, gas-to-liquids, power generation and emerging technologies — that provide current and potential future growth opportunities.
Status

Public Company, New York Stock Exchange (NYSE), Symbol: COP
Company History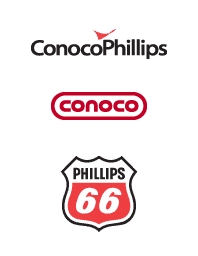 ConocoPhillips
From their beginnings in the early days of the oil industry, Conoco Inc. and Phillips Petroleum Company grew and prospered, becoming leaders in the global energy industry. On August 30, 2002, they combined their complementary strengths and shared values to create ConocoPhillips.

Conoco Inc.
Conoco Inc. began in 1875 as the Continental Oil and Transportation Co. Based in Ogden, Utah, the company distributed coal, oil, kerosene, grease and candles to the West.

Phillips Petroleum Company
Phillips Petroleum Company traced its roots to rugged Bartlesville, Oklahoma, in the middle of Indian Territory. In 1905, Frank Phillips and brother, L.E., hit their first gusher - the first of 81 wells in a row without a single dry hole.