Dallas Hair Transplant Specialist Performs FUE Hair Transplants Using ARTAS Hair Restoration System by Restoration Robotics, Inc.
Dr. Samuel Lam, a board-certified hair restoration surgeon in Dallas, Texas, is now performing follicular unit extraction (FUE) hair transplant procedures using the computer-assisted ARTAS hair restoration system.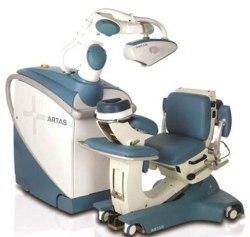 Dallas, TX, September 24, 2012 --(
PR.com
)-- Dr. Samuel Lam, M.D., F.A.C.S., a world renowned, board-certified hair restoration surgeon in Dallas, Texas and founder of the Lam Institute for Hair Restoration, is pleased to announce that he is now utilizing the state-of-the-art ARTAS hair restoration system to perform follicular unit extraction (FUE) hair transplant procedures. The ARTAS system, developed by Restoration Robotics, Inc., allows hair transplant surgeons to perform follicular unit transplantation (FUT) using computer-assisted, robotic technology, resulting in more accurate, comfortable and successful hair transplant procedures.
The ARTAS System is the first computer-assisted robotic hair transplant system that aids physicians in harvesting hair follicles using minimally invasive techniques during a FUE hair transplantation procedure. The technology is FDA cleared and is the only system of its kind. The ARTAS system provides hair transplant surgeons with revolutionary technology that allows for hair follicles to be extracted from the back of the head without the need for incisions and for healthy, strong follicular units to be selected. This results in less discomfort, the increased likelihood that the transplantation of hair follicles will be successful, and virtually no scars at donor sites.
Dr. Lam is recognized as a leader in the field of hair restoration and has combined his talents with Emina Karamanovski, the former national and international training director for Restoration Robotics, to offer patients in Dallas FUE hair restoration procedures utilizing state-of-the-art techniques. Along with the pre-eminent technology employed by the ARTAS robotic hair restoration system, Dr. Lam offers unparalleled excellence and artistry in hair restoration techniques, while Ms. Karamanovski provides a level of experience with the ARTAS system that is unmatched.
"When it comes to hair restoration, a successful procedure is part artistry and part medical technique," explains Dallas hair transplant surgeon Dr. Lam. "I have achieved incredible results over the years in hair transplantation due to my high level of artistry as it relates to creating the most natural, dense and aesthetically appealing appearance for hair transplants. Now, with the ARTAS system, the technique of harvesting healthy hair follicles for grafting is more precise and easier to perform, resulting in a minimally invasive procedure that reduces patient discomfort while improving transplant outcomes. This provides a winning combination for my patients."
During the FUE hair transplant procedure using the ARTAS system, the patient rests comfortably in an ergonomically designed chair while computer imaging technology identifies and selects targeted follicular units to be extracted. A skin tensioner is applied to the patient's scalp to stabilize the skin in order to achieve the most accurate tracking and dissection of hair follicles. The follicles are harvested using minimally invasive techniques that require no incision. The harvested grafts then undergo final preparation and are expertly and artistically grafted in needed areas by Dr. Lam and his staff to complete the FUE hair transplant procedure.
Dr. Lam performs robotic FUE hair transplant procedures at the Lam Institute of Hair Restoration in Plano, Texas. He also offers hair transplantation utilizing traditional strip harvesting. Always seeking to improve patient outcomes, Dr. Lam uses healing and growth-promoting injections that improve hair transplant results in exceptional ways. Ultimately, however, it is the superior artistic control employed by Dr. Lam in designing hair transplant patterns that are natural looking, visually dense and aesthetic pleasing that has resulted in Dr. Lam being sought out not only by individuals in the greater Dallas area, but from around the world.
About Dr. Lam:
Dr. Samuel Lam, a Dallas hair restoration surgeon, is one of only about 100 diplomates of the American Board of Hair Restoration Surgery. He is also board certified by the American Board of Facial Plastic & Reconstructive Surgery and the American Board of Otolaryngology. He is a graduate of Princeton University and the Baylor College of Medicine and has written five major medical textbooks, including a national and international bestseller on hair transplantation, titled Hair Transplant 360. He has also written over 150 scientific articles and book chapters and is sought around the world as a lecturer on his hair restoration techniques. Dr. Lam is a regular columnist for the Hair Transplant Forum International, the main publication of the ISHRS, and is the national course director for the Hair Transplant Course, which is held annually in St. Louis, MO. He is the founder and director of the Lam Institute for Hair Restoration in Plano, Texas and has been distinguished as Surgeon of the Month by the International Society of Hair Restoration Surgery. For more information about Dr. Lam, visit http://www.hairtx.com or call 972-3112-8188 or 1-888-866-3388.
About The ARTAS System and Restoration Robotics:
Restoration Robotics, Inc., a privately held medical device company, is dedicated to revolutionizing the field of hair transplantation by developing and commercializing its state-of-the-art image-guided ARTAS System. This interactive, computer assisted system uses image-guided robotics to enhance the quality of hair follicle harvesting for the benefit of physicians and their patients.
Contact
Lam Institute of Hair Restoration
Dr Samuel Lam
1-972-312-8188
http://www.hairtx.com

Contact