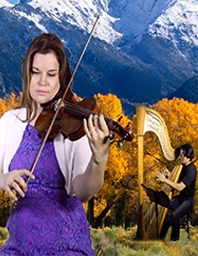 The innovative Strings Along method is based on our natural ability to learn by engaging with master musicians so you learn naturally and quickly playing with the best. Learn as you watch, hearing and actually play with great musicians. Playing together you will naturally adjust the tone of your notes, your rhythm will swing with the professionals and your timing will fall in sync with the great musicians on the Strings Along team. Your playing level will naturally improve quickly as you practice the songs piece by piece.

Each piece in the Strings Along repertoire offers learning points that will develop a well rounded musician. Each piece has from 5 to 10 variations of practice videos. All songs are recorded with the full accompaniment: Early violin offers a harp, guitar or violin duet accompaniment. Intermediate offers string quartet or violin - cello duet pieces.

It's an extraordinary opportunity to accelerate your learning and increase the pleasure of playing music together. Don't practice alone, play in a duet or quartet! Music was always meant to play together and now the digital age gives you unlimited access to master players, in your home, any time.

As a member, you will receive numerous videos for each piece that assist your practice on many levels. First listen, watch and play with the full accompaniment. This gives a feel for the piece and how the parts work best together. The up close videos will help you catch every nuance of the master musicians. As you learn the piece, the accompaniment will carry you through until you have assimilated the pieces' framework.

The second set of videos have the violin playing their parts alone. You can concentrate on your part specifically and learn all the finer details. Now you can hon exactly your part. Practice matching the video will give a measurable gauge to work to and motivate.

The third series of videos are the minus your part practices. You are now fully in the duet or quartet as a participant. The videos show the other musicians but not your part. You play the violin and have the support of the other players to motivate and correct as the pieces flow without embarrassment, free to repeat. Practice in your own home, on your own schedule as often as possible. Practice the measures where you need most help. No pressure with Strings Along.

The Strings Along Method leads a student to better playing and more fun. The student will naturally self correct making the teacher and parents' jobs easier and more pleasant.

Meet the master musicians, who bring the Strings Along concept to life. Highly trained Suzuki violin teachers, concertmasters, professional performers, composers and innovators. Where else can students play with this level of accomplishment for $10/month?
Status

Private Company

Founded

2013

# Employees

5