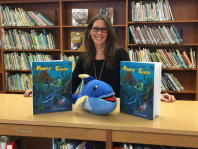 Lisa Ozalis-Graham realizes that sometimes children have a hard time identifying and expressing their feelings. Her company, Empower Kids LLC, produces products to empower children in the hopes of helping them find their inner light and voice. Her ability to create lovable characters who struggle with the same challenges young children face make her stories relatable. Parents and caregivers alike continue to use her picture books and story themes as a jumping off point for such tender topics as bullying and feeling as if they don't belong. Educators and counselors have also utilized her stories as part of their Social Emotional Learning and Mindfulness initiatives.

Her first book The Adventures of Finley and Cisco has received rave reviews and has touched the lives and hearts of thousands of children and adults alike. Her stories of friendship, empowerment and love remind us of the importance of teaching core character values such as kindness, acceptance, compassion, empathy and forgiveness to our children. They also place emphasis on teaching children the importance of being mindful and accountable for their words and actions. Two additional books, Randle Finds His Light and Sandy's Safe Place to Land, are due to be released in April of this year.

In addition to starting she is also Founder of Empower Kids For Literacy, a non-profit whose mission is to promote literacy and mental health through the formation of partnerships within the community by providing children with access to books regardless of personal or social circumstances.
Status

Private Company

Founded

2017

# Employees

1