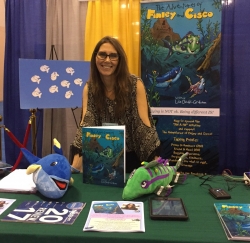 Southampton, NJ, November 29, 2017 --(
PR.com
)-- Powerful Message of Concerned Mom Teaches Bullying is not OK, Being Different is!
Lisa Ozalis-Graham, Author of the recently released children's book, "The Adventures of Finley and Cisco" is helping to prevent real youth tragedies by tapping into the emotions of elementary school students while creating awareness as to the dangers of bullying. "Youth suicides are on the rise at an alarming rate and social media is not going away, so we need to fight fire with fire and put positive messages back in the pipeline for our kids," said Ozalis-Graham. So she created Empower Kids, LLC a company which will focus on developing books and products such as stuffed animals that will continue to add to the effort. The book even has 4 coloring pages in the back for a nice quiet time activity at home or in the classroom.
Her simple approach uses two acronyms...PIN (standing for Power In Numbers) and FIN (Friend In Need) which is effective in showing students that we need to stand together and help one another in times of trouble because it's the right thing to do. The story also teaches valuable lessons about acceptance and celebration of each other's differences, for that is what make each of us unique and special. Add in the powerful concepts of forgiveness, paying it forward, courage and kindness and you've got a 700 word adventure that is fun, colorful and easy to remember.
The book, only released September 25 of this year, has already been extremely well-received by teachers, parents, counselors and the students themselves. Ozalis-Graham has been invited to countless schools for book signings and assemblies and is tying the book in to a National "PIN A FIN TO WIN" Random Acts of Kindness initiative, which she hopes to introduce to every elementary school across the country. Coincidentally, the book comes out at the same time the movie "Wonder," which deals with a child who is bullied because of a facial deformity, is released.
Jennifer Andrews, Director of Special Services and a School Social Worker for the Southampton Township School District, had this to say: "Having over 15 years of working with children with special needs I'm grateful and impressed with your ability to create such a touching children's book. There is no doubt that your book will help children of many ages deal with social and emotional issues. The Adventures of Finley and Cisco is realistic, versatile and has an effective lesson that teaches children it is okay to be different and that bullying is not ok."
According to Ozalis-Graham, one excited teacher at the recent NJEA Convention said, "Thank you so much for doing this! This is such a breath of fresh air. Our Random Acts of Kindness programs have grown stagnant and the kids just aren't responding...we need something new the kids can get excited about and relate to. This is going to be perfect!"
Along with assuming the role of entrepreneur with husband, Kevin, she divides her time between raising her family, running their entertainment business, and lending her talents to cause-related projects as an author, poet, singer and songwriter. More information about her can be found on her website at
www.pinafintowin.com
.