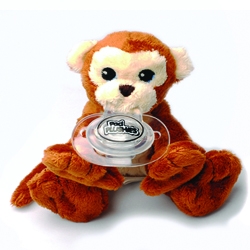 Los Angeles, CA, August 15, 2008 --(
PR.com
)-- Sleep deprived parents of pacifier using tots know how exhausting it is to get up out of bed several times a night in order to replace missing pacifies for a wailing child.
Paci-Plushies
™, a plush pacifier holder which allows infants and toddlers to easily find a dropped pacifier, is scheduled to launch at the ABC Kids Expo in September, 2008.
Stacy Dallman, created the idea for Paci-Plushies™ after becoming frustrated at the number of times she was waking up in the middle of the night to find her toddler daughter's pacifiers. With the birth of newborn Noah, Dallman quickly became drained from the lack of sleep. "Between the new baby, and my daughter, Ava, waking 4-5 times a night for her pacifier, I was up the entire night!" Dallman remembers. "I physically could not keep waking up every half an hour throughout the night, so I searched high and low to find something that would help Ava find the pacifier by herself." Dallman was able to find a product, but was disappointed when the product arrived and Ava refused to use it. "The product was a good idea, but the major limitation was that it had a newborn sized pacifier permanently sewn into it." Dallman thought that the permanent attachment of a newborn pacifier defeated the purpose of the product altogether because most babies do not develop the dexterity to bring the plush toy to their mouths until they are at least 12-16 weeks old. "I wasn't surprised that Ava wouldn't use the pacifier," says Dallman, "It was a big green pacifier that newborns typically only use in the hospital and it's not even recommended for babies older than 3 months of age."
Always quick to solve a problem, Dallman began fashioning the first home-made Paci-Plushies™ by joining a silicone ring from a pacifier clip to a store bought Baby Gund™ plush animal. Dallman had created an instant soft, tangible pacifier holder which her daughter could easily find in the crib at night and the creation was an instant success! "Ava was able to feel around in the night for the plush toy and grab on to it to put the pacifier back in her mouth on her own," Dallman reported, "She slept through the night for the first time in two years!"
It wasn't long before other moms started noticing the home-made Paci-Plushies™. "When moms started coming up to me in the grocery store to ask me where they could buy one of my Paci-Plushies™, I knew that I was onto a big idea and I began researching and eventually filing for a patent of my own." After filing the patent paperwork, Dallman began the process of developing her idea, even contacting the creators of the initial product that her daughter had rejected. "My initial thought was that this other company would happily embrace my idea. I was a bit naive to think that they would want to build a partnership and design complementary products together," laughs Dallman. "When my emails went unanswered, I shrugged it off and went on to develop the Paci-Plushies™ by myself. This journey has been eye opening and fulfilling, and I'm glad that I ended up venturing out on my own to bring the Paci-Plushies™ to life!"
Paci-Plushies™ are now available at www.PaciPlushies.com and come in several
animal-themed designs
. With versatility in mind, Dallman designed the Paci-Plushies™ with a specialized Hug Ring™ which attaches to over 200 varieties of store-bought, brand name pacifiers. This allows for use of a preferred pacifier for babies and toddlers of all ages and also offers easy cleaning for both Paci-Plushie™ and pacifier. Paci-Plushies™ retail for $13.95 and include a clear colored orthodontic pacifier with protective cap.
Though never intending to become a mom-inventor, Dallman encourages other Mom Inventors to follow through with good ideas that will help solve everyday parenting problems. "I knew that I had to bring Paci-Plushies™ to market, even though I didn't know a thing about inventing a product," says Dallman, "I just knew that I had a useful idea to help solve a common problem in a better way."
Dallman, a native of Western New York, is married to professional hockey player Kevin Dallman and currently resides in Los Angeles with their two young children.
Paci-Plushies™ can be viewed at the 2008 ABC Kids Expo in Las Vegas, Booth 1221. (Buyers at the ABC Kids Expo will receive 10% off their entire order) or online at
www.PaciPlushies.com
. Stacy is available to interview at (213) 435-9859 or may be contacted via email at Stacy@PaciPlushies.com.
###