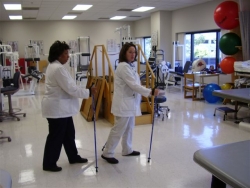 Glen Arbor, MI, August 19, 2008 --(
PR.com
)-- Pete Edwards, the owner/founder/coach of The American Nordic Walking System and
WWW.SKIWALKING.COM
, is a man on a mission. He has introduced thousands of Americans to Nordic Ski Walking – the healthy exercise program from Europe (over 6 million Europeans are estimated to be walking with poles in the cities, in the country and in the mountains). Walking with poles can burn up to 40% more calories than regular walking, plus when sized correctly and when using the proper technique the stress to the shins, knees, hips and back is radically reduced.
Edwards hosts Nordic Walking classes almost daily – private lessons, group lessons and in-service programs. In-service programs typically cater to doctors, nurses, physical therapists and personal trainers. When doctors, nurses, physical therapists and personal trainers discover the many benefits of walking with poles they are anxious to share Nordic Walking with others. Every year Edwards receives hundreds of thank you letters and emails from happy customers who have found success with their poles despite their MS, Parkinson's, Arthritis, Post Polio, Neuropathy, Osteoporosis, Scoliosis, Back Issues (including metal rods), knee issues (including new knees), hip issues (including new hips), Bursitis and other challenges. When individuals with balance issues find our Nordic Walking Poles more comfortable than canes and walkers it is amazing and exceptionally rewarding. The benefits and advantages of using one-piece walking poles are almost to good to be true, but it is just good physics and basic biomechanics. Nordic Walking is no longer just for expert skiers deprived of snow during the summer.
Walking clubs are also contacting Edwards and offering to fly him to their outings/events and introduce Nordic Walking to their membership. Walking with poles really does burn more calories than regular walking. The poles also add an upper body workout to the daily walking campaign – turbo charging the average walking campaign and turning it into a full body workout. Weight Watchers and TOPS groups are also discovering the many benefits of walking with one-piece poles.
It would be simpler and more profitable for Edwards to sell and promote collapsible one-size fits all type poles, but from a safety and performance standpoint it didn't and still doesn't make sense to this running and ski coach with over 25 years of coaching experience. As a ski coach it is obvious that skiers don't ski with twist-locking poles because of safety, weight and durability issues. One-piece poles are simply safer, lighter and much more durable than cheap twist-locking adjustable length/telescoping/collapsible poles.
Edwards always travels to his Nordic Walking lessons, clinics, lectures and in-services with 60 or more pairs of his quality one-piece poles in a variety of lengths for participants to test-drive as well as one high-end $139.95 twist-locking pole to prove his point about one-piece poles being safer and stronger than expensive or cheap twist-locking poles. He will tap the twist-locking pole on the ground and it will vibrate and rattle. He will plant it firmly and his audience can watch it gradually collapse down to munchkin height. Then he will take one of his quality one-piece poles and tap it. It is silent and there is not vibration issue or obnoxious rattling. Edwards then informs his audience that his quality one-piece pole made in Lillehammer, Norway costs half as much as the expensive twist-locking pole. Quality one-piece poles start at $69.95. The SWIX VIP's are made in Lillehammer, Norway and include Real Nordic Walking Straps (patented by the Salomon Ski Company, durable carbide metal tips (for trails, snow and ice), removable rubber Nordic Walking tips (for pavement and other hard surfaces) and a free Nordic Walking DVD.
Many of the doctors, nurses, physical therapists and fitness instructors that Edwards has worked with already had prior experience with twist-locking snowshoe poles, trekking poles and/or Nordic Walking Poles. In almost every case the feedback has been consistent – "the twist-locks either gradually collapsed, freezed up all together or failed."
Americans are in desperate need of walking and exercising. Walking with Nordic Ski Walking poles is proving to be the efficient and effective solution for all ages and all fitness levels. And one-piece poles are proving to be the #1 choice of doctors, nurses, physical therapists and fitness instructors.
###