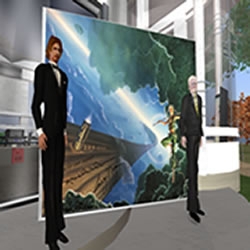 Santa Monica, CA, August 29, 2008 --(
PR.com
)-- Monogram Virtua Charities, a division of Monogram Virtua is proud to sponsor the 1st Annual Writers Convention benefiting the Alzheimer's Association. The event will include seminars, workshops, and live entertainment performances by various Second Life (SL) residents. Hundreds of supporters from both the cyber and real worlds are set to arrive in SL August 30th to listen and participate at the Monogram Virtua Convention Center (http://slurl.com/secondlife/Monogram%20Tria/78/131/22) located on Monogram Tria. Monogram Virtua's co-founders Harold Whaley (SL name Hdub Shepherd), Randall Rubin (SL name Dubble Rokocoko), and VP Sales & Marketing, Andréa McCloud (SL name Anakalia Catteneo) will be in attendance at the opening ceremony at 11 am PST. A limited number of press passes will be available. Special Guests, #1 Best Selling Science Fiction Author Larry Niven and World Renowned Artist Michael Whelan will be present via avatars and holding a virtual signing of digital posters and wallpaper of the cover art from Niven's novel, Integral Trees, to benefit the charity.
Artwork, clothing, magazine publications and various other items created by SL residents will be displayed in the Convention Center's showroom and courtyard. Proceeds from sales will be donated to the Alzheimer's Association on behalf of the vendors.
This is Monogram Virtua Charities' second virtual fundraiser designed to bring the members of various SL communities together to support various Real World non-profit organizations. Rubin, an avid filmmaker and Whaley, a music enthusiast and emerging technologies expert, came up with idea to help support charity organizations through Virtual Worlds fundraisers and created Monogram Virtua Charities. While in the cyberworld, Monogram Virtua Charities organized into their group of Second Life contacts a long list of supporters. The event, benefiting the Alzheimer's Association, is designed to bring supporters in the Virtual and Real Worlds together to support this important cause.
Key contributors to the fundraiser are: Kellie Cantrell (SL name Harlow Madden), Marketing Assistant/Research Analyst; Spencer Dane (SL name: SpencerDane Bookmite), Author of Blue Diamonds and White Gold; Kat Alderson (SL name), Marketing your Book in SL workshop coordinator; Graegor Aeon (SL name), Creating Successful Critique seminar coordinator; MONCHAT Newman (SL name), creator of the Niven and Whelan avatars; and Mankind Tracer (SL name), virtual live performance artist.
About Special Guests
Larry Niven, #1 Best Selling Science Fiction Author, is the author of numerous science fiction short stories and novels, beginning with his 1964 story "The Coldest Place". Niven's most famous contribution to the SF genre is his concept of the Ringworld, a rotating band around a star of approximately the same diameter as Earth's orbit. In addition to the Hugo and Nebula award for Ringworld, 1967, Niven won the Hugo Award for Best Short Story for "Neutron Star". Many of Niven's stories take place in his Known Space universe, in which humanity shares the several habitable solar systems nearest to the Sun with over a dozen alien species, including aggressive feline Kzinti and very intelligent but cowardly Pierson's Puppeteers, which are frequently central characters. The Ringworld series is set in the Known Space universe. He won the same award in 1972, for "Inconstant Moon", and in 1975 for "The Hole Man". The creation of thoroughly worked-out alien species, which are very different from humans both physically and mentally, is recognized as one of Niven's main strengths. Much of his writing since 1970s has been in collaboration with Jerry Pournelle and/or Steven Barnes. Monogram Virtua co-founder and writer, director, producer Randall K. Rubin is currently in collaboration with Niven to adapt his 1983 novel Integral Trees as a feature film.
Michael Whelan, a multiple-award-winning American artist, specializes in science fiction and fantasy illustration. Michael's award-winning science fiction and fantasy art has been a window to imaginative worlds for over 30 years. Michael has had 4 art books published as well as numerous limited edition prints, posters, calendars, and licensed products such as greeting cards, t-shirts and sculptures. He is a member of the Graphic Artists Guild and the Society of Illustrators in New York City, and he is an Advisor to the Masters in Fine Arts program at Western Connecticut State University in Danbury, Connecticut. In 2003 he became a member of the inaugural Advisory Board of the Science Fiction Museum and Hall of Fame in Seattle, Washington. Whelan provided covers and interior illustrations for Stephen King's The Gunslinger and The Dark Tower, the first and last of his Dark Tower books. Whelan's work can also be seen on the cover of Sepultura's albums Beneath the Remains, Arise, Chaos A.D., Soulfly's Dark Ages, and Obituary's landmark album Cause of Death, and every album by Elric-influenced metal band Cirith Ungol. He describes his art style as "imaginative realism." Today, he is showing us the worlds of his own dreams (
http://michaelwhelan.com
).
About The Alzheimer's Association
The Alzheimer's Association is the leading voluntary health organization in Alzheimer care, support and research. The Association's mission is to eliminate Alzheimer's disease through the advancement of research; to provide and enhance care and support for all affected; and to reduce the risk of dementia through the promotion of brain health. The Alzheimer's Association, today a multimillion-dollar organization, has been the catalyst and leader for a generation of advancements in Alzheimer research and care. Their organization's achievements and progress in the field have given thousands of people a better quality of life and brought hope for millions more. For more information visit www.alz.org or send inquiries to: info@alz.org.
About Monogram Virtua
Monogram Virtua is a Metaverse Entertainment Company that specializes in the explosively emerging world of 3D Cyber Virtual interactive sites such as Second Life and Entropia Universe. The Company was founded by filmmaker Randall K. Rubin and cutting edge digital entertainment technology expert Harold Whaley to capitalize on the rapidly expanding untapped market of virtual interactivity for marketing and business. Monogram Virtua's business centers around providing artists, entertainers, and entertainment and technology business partners with a portal into a vast digital virtual community, teaming with people, entertainment, experiences, and commercial opportunities. Virtual Worlds currently support millions of US dollars in the daily convertible currency transactions. Monogram Virtua specializes in providing customized services for businesses interested in taking advantage of this exciting new space. Monogram Virtua: "Real World Business for the Virtual World."
For additional information, go to www.monogramvirtua.com
For More Information Or Interview Requests Contact:
Andrea McCloud
anakalia@monogramvirtua.com
619.567.3413
###