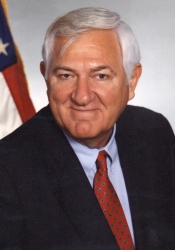 Boscawen, NH, September 09, 2008 --(
PR.com
)-- The 100 Nights of Remembrance, New England's all-volunteer organization known nationally for ensuring that every evening (for 100 nights during May through September) a lone bugler sounds taps at sundown to honor U.S. Veterans, today announced Orson Swindle as the keynote speaker for the September 11th public closing ceremonies at the New Hampshire State Veterans Cemetery in Boscawen, New Hampshire. Swindle is a U.S. Marine Corp Lieutenant Colonel (Ret.) and former FTC Commissioner.
The closing tribute begins at 7:00 PM will be held at the New Hampshire State Veterans Cemetery at 110 Daniel Webster Hwy Boscawen, NH 03303. The ceremony will include honor guards from the military, veteran, public safety, and civic organizations. The ceremony will conclude with the final playing of Taps. The public is welcomed and encouraged to attend.
"It is incredibly exciting that such a prominent Washington policy figure and decorated war hero has recognized and supports our efforts to honor those who have bore the battle of our freedom," said Noel Taylor, Director and founder of the 100 Nights of Remembrance.
Roland Cloutier, Associate Board Member, said, "No more poignant a speaker could our state and veterans have than a decorated veteran, former POW, and dedicated civilian and patriot who continues to serve his country year after year."
Orson Swindle is currently the Senior Policy Advisor and Chair, Security Initiatives, Centre for Information Policy Leadership in the Privacy and Information Management Practice at Hunton & Williams in Washington, D.C. Prior to his work in public policy and government, Swindle had a distinguished military career in the U.S. Marine Corps, flying 205 fighter missions in Vietnam. He was awarded over 20 military decorations for valor in combat, including two Silver Stars, two Bronze Stars, two Legions of Merit and two Purple Hearts. He was held in North Vietnam as a prisoner of war for more than six years and retired from the Marines in 1979 as a Lieutenant Colonel. Swindle served as one of the five Commissioners on the Federal Trade Commission from 1997-2005 and participated in the advocacy for and launch of the FTC's Do-Not-Call program. He also played a key leadership role in revising the Organization for Economic Cooperation and Development Information Security Guidelines in 2002 and 2003. He currently serves on the Board of Directors of Citizens Against Government Waste and as a member of the Commission on Cyber Security at the Center for Strategic and International Studies (CSIS), which is tasked with developing recommendations for a comprehensive strategy to improve cyber security in federal systems and critical infrastructure to be presented to the next President.
About 100 Nights
The One Hundred Nights of Remembrance is an organization made up of volunteers from all walks of life who work together to provide a living tribute to buried veterans by playing Taps every day from Memorial Day through September 11th at the New Hampshire State Veterans Cemetery. Every evening during that period, at precisely 7:00 PM, a volunteer bugler sounds the 24 solemn notes of Taps to honor the men and women resting on those sacred grounds. Players range from business professionals to laborers, young and old, male or female, students to retirees, former military to active duty and many more. All have come together with a common goal which is to show respect and honor for all Americans who have sacrificed and served our country honorably in any branch of the United States Armed Forces.
Press Contacts
Noel Taylor
(603) 8675715
noeltylr@comcast.net
Website: http://100nightsofremembrance.org
###