Tuscany Hills Clubhouse Now Complete Outside Atlanta: Open for Homesite Tours and Event Bookings
Tuscany Hills -- a private, gated-community just 25 minutes outside Atlanta -- is now open for homesite tours and inquiries into clubhouse rentals. Interested buyers and renters can tour the impeccable clubhouse and grounds, and imagine their family having its dream home at Tuscany Hills.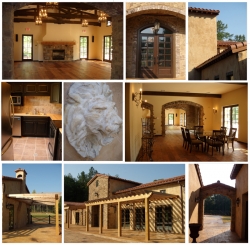 Douglasville, GA, September 17, 2008 --(
PR.com
)-- In picturesque Douglasville exists a residential haven of unparalleled excellence, and now,
Tuscany Hills
' grand clubhouse is complete.
Prospective buyers and renters are invited to join the developers as they announce and celebrate Villa Toscana, the latest milestone in the Tuscany Hills real estate development project. For months a design team has been hard at work adorning this Tuscany-inspired clubhouse with beautiful and comforting furnishings, art and Italian artifacts.
Villa Toscana is destined to be a wonderful community center, and the developers of Tuscany Hills recommend the clubhouse for special events; the facility boasts modern-day amenities such as high-speed internet access, flat-screen TVs and a quality sound system. From a gala corporate dinner to a casual party among friends and family, Villa Toscana will wow any guest.
Amenities/facilities offered at Villa Toscana:
*Entering from Tuscany Drive guests can see the classic Italian lines of Villa Toscana and beginnings of a circular drive and portico
*Exuding a private-club atmosphere, Villa Toscana's sun-baked terra cotta walls blend beautifully with stacked stone to create a warm welcome for all residents and guests
*Wide, low windows mark the façade of the Clubhouse and beautiful hardwood floors and a stone fireplace frame the Tuscany Room
*Sunlight illuminates the interior of the Great Room and enhances the traditional dark cedar beams
*Stacked stone archways of the entrance corridor lead into the Clubhouse and open onto sitting areas
*Villa Toscana features authentic Tuscan details (clay-tile roof and wooden rafters)
*The dining area and card game room sits just around the corner from the Clubhouse's fully-equipped catering kitchen
*The back porch offers great views of the Italian-style swimming pool, grilling patio, historic fireplace, and sitting trellises that overlook the tennis courts
For those interested in purchasing a lot at Tuscany Hills, the developers have some more great news. With the clubhouse complete, all are invited to come take a tour of this impressive development. In October 2008, Tuscany Hills will celebrate their Grand Opening, which promises to be a gala event.
For more information on facility rental of Villa Toscana, or to inquire about customizable estate home sites, please email info@tuscanyhillsga.com. To see additional photos of the Tuscany Hills development in varying stages of completion, please check the company website for Tuscany Hills blog, located at www.tuscanyhillsga.com. For additional information on lot pricing, acreage information as well as special incentives, please call (678) 838-4778. Interested parties can also register online for an invitation to their Grand Opening events.
Starting in November, Villa Toscana will be available for private events, and Atlanta-area event planners are welcome to consider hosting the clubhouse for holiday celebrations. Email sales@tuscanyhillsga.com for additional information and availability. For a map of Tuscany Hills and surrounding school systems, please visit http://www.douglas.k12.ga.us/.
###
About Tuscany Hills:
Tuscany Hills is the latest upscale, fully-customizable real estate development in Douglas County. Surrounded by parks and gardens – offering families peace and tranquility – Tuscany Hills is located just minutes from all the vibrancy of Atlanta and the surrounding area. Our community is a secluded enclave with just 100 estate-size lots on 133 acres, situated in the middle of a forest with the Chattahoochee River on one side and Anneewakee Creek on the other. Just outside the gates is an evolving, thriving community (Douglasville) that offers shopping, restaurants, and cultural activities. There is an endless list of nearby outdoor activities at Boundary Waters and Dog River Reservoir Park, the largest park in Georgia. Tuscany Hills lies within close proximity to Hartsfield International Airport and Atlanta's world-class shopping and dining, professional sporting events, culture and the arts.
Tuscany Hills is a custom-home community where you can build your dream home in a beautiful private riverfront community. They have relationships with builders and architects to help their customers design their own home. To see a 'vision of architectural styles' planned for Tuscany Hills, please visit www.tuscanyhillsga.com.
"Tuscany Hills: A Place Like No Other in Atlanta."
Contact
Tuscany Hills Georgia
Robert Sherman or Frank Koretsky, Developers
(678) 838-4778
www.tuscanyhillsga.com

Contact
Multimedia
The Villa Toscana Clubhouse, the latest milestone in the Tuscany Hills real estate development project, is complete -- and located just a short drive from Atlanta! Come tour the grounds and take a look inside the stunning Clubhouse.