Disney's Toy Story Mania with Physical Challenges: Riding with Health Issues
Toy Story Mania has just opened this summer to rave reviews, but should everyone ride it? A new article has just been released on www.Diz-Abled.com that goes into detail about the physical feel of the attraction, and describes who should consider avoiding this ride. It also shares tips for riding with greater comfort. The article was written by Stephen Ashley, author of Walt Disney World with Disabilities.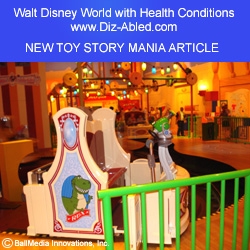 Orlando, FL, September 18, 2008 --(
PR.com
)-- Though it's getting rave reviews from park guests, if you have certain health conditions it may not be right for you. "We expected it to be relatively gentle and similar to the Buzz Lightyear ride in the Magic Kingdom, but once we got on it we were surprised to find that it was a rough ride," said Stephen Ashley, author of the guide book Walt Disney World with Disabilities. "For my wife Sarah it was a bit of a shock, and if she had known what it was like she probably would have chosen not to try it because of her neck problem."
This highly advanced interactive ride opened in June 2008, and it's become one of the most popular rides at Disney. Considered a 4-D experience, it's inspired by Disney Pixar's "Toy Story" films. Guests will be "shrunk" to toy size to play an assortment of midway games with the stars of the film; Woody, Buzz, Rex, Hamm and others. Using a spring action shooter gun, participants will shoot 3-D targets for points.
Using newer technology, this experience will be a blast for a large percentage of Disney guests. However the motion and special effects may be challenging for those with certain conditions including neck and back problems, weakness, epilepsy, balance issues and vertigo. It has rough tracks, jerky motion, high speed turns and spins and sudden stops that can feel quite rough. Regardless, many people even with mild to moderate health issues will be able to participate and enjoy it.
Want to know what to expect? You can find a thorough description of Toy Story Mania on
www.Diz-Abled.com
. It includes in-depth details about the physical and emotional feel of the ride, along with tips for riding with greater comfort. The description is designed to assist travelers in deciding whether the ride is appropriate for them.
Stephen Ashley posts sections of the book Walt Disney World with Disabilities on the official website; however he does not ordinarily include ride and attraction excerpts. "We made an exception for this one ride. We just released the revised and updated version of Walt Disney World with Disabilities, making it current to 2009," explained Ashley. "My wife Sarah and I had tested out Toy Story Mania after the book went to print, so we decided to write a full article and place it on the website." That web article along with the book provides readers an up-to-date 2009 version of Walt Disney World with Disabilities. The article includes photos of the attraction including the queue and the ride cars, as well as a link to a video of the ride in motion.
The description of Toy Story Mania will be included in the next edition of Walt Disney World with Disabilities. The book is designed to support travelers with minor to major health and emotional concerns so they can safely and comfortably enjoy Disney to the fullest.
Book review taken from MagicalMountain.net:
"Walt Disney World With Disabilities is a must read. While the title may lead you to believe that this is a guide for those with severe disabilities, it really is a guide for anyone. Not only will you get useful information for those who are wheelchair bound, but also you get great tips for those with more "minor" disabilities such as motion sickness or allergies."
Bob Sehlinger, author of The Unofficial Guide to Walt Disney World wrote:
"I think it's a fine guide that reflects a lot of experience learned the hard way. I was astonished at Sarah's attitude given her many challenges and am greatly impressed by her pluck. The guide certainly makes the point that if she can have a great time at WDW then most anyone can... the content is solid."
Walt Disney World® with Disabilities is now available on the Web through the official Web site: www.Diz-Abled.com. Or it may be ordered through www.Amazon.com and www.barnesandnoble.com. For bulk purchase and group discounts contact the publisher, Ball Media Innovations, Inc., at (954) 432-1274.
###
Contact
Ball Media Innovations, Inc.
Greg Ball
954-432-1274
www.Diz-Abled.com

Contact