Pacific Resort Aitutaki Earns Conde Nast Traveller's Recognition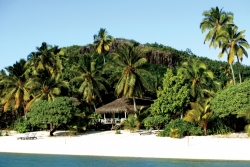 Aitutaki, Cook Islands, November 13, 2008 --(
PR.com
)-- There was more good news for Cook Islands tourism, when US readers of the world's most prestigious travel magazine, Condé Nast Traveller, recently included Pacific Resort Aitutaki in their list of the Top 20 Resorts in Australia and The Pacific.
The 21st Annual "Reader's Choice Awards" were announced at a gala function at the New York Public Library last month. The Condé Nast 'Traveller's Readers Choice Survey' is the largest independent poll of consumers 'preferences' in the U.S. with over 32,663 readers voting in 2008.
Pacific Resort Aitutaki has been consistently recognized as one of the regions leading resorts winning many awards and accolades, acknowledging their pre eminence as a luxury resort.
"Naturally we are thrilled to gain the publicity this sort of award brings us" said Greg Stanaway, Pacific Resort CEO "it also recognizes the efforts of our people in Aitutaki and helps position the Cook Islands and Aitutaki as a quality destination. Given the relatively low number of North Americans visiting Aitutaki at this stage compared to other destinations voted on this list, we feel very proud of this ranking."
Pacific Resort Aitutaki's latest success follows on from recent accolades, when in October, it was named the best "Luxury Island Resort" in the world at the World Luxury Hotel Travel Awards and earlier, in June this year, when it was voted "Australasia's Leading Boutique Resort" at the World Travel Awards.
The complete results of the awards can be found on Condé Nast Traveller's website at www.concierge.com/cntraveler
###
Notes to Editors
About Pacific Resort Aitutaki
Secluded Luxury…Like a siren of the Pacific, Aitutaki, Cook Islands, beckons you. This magical place, full of South Seas idyll and romance, is home to Pacific Resort Aitutaki, an enclave of privacy, refinement and luxury, that seduces even the most discerning traveller. Pacific Resort Aitutaki has just 27 luxurious 'absolute beachfront' bungalows, suites and villas all with their own personal, panoramic view of Aitutaki's world-famous lagoon, where every sunset majestically captures the colours of the lagoon and the ocean beyond.
And even when your idyllic getaway comes to an end, the seduction doesn't stop. When you return home feeling refreshed and rejuvenated, you'll pause every now and then to revisit your magical memories of the experience that is Aitutaki. Memories of this exclusive, luxurious, romantic sanctuary will hold you in its spell forever. For more information visit
www.pacificresort.com
About Condé Nast Travelers Readers Choice Awards
Every year, Conde Nast Traveler invites travelers to participate in periodic surveys that evaluate the best travel experiences in the world. The results are published regularly in the pages of Condé Nast Traveler, and are also posted on Concierge.com, where they reflect your choices of the world's best cities and islands, hotels and resorts, cruise ships and airlines—and more.
For more information visit www.concierge.com/cntraveler
Contact
Pacific Resort - Cook Islands
Marcus Niszow
00 682 20427
www.pacificresort.com

Contact
Multimedia
View these stunning images heaven on earth does exist...it is called Pacific Resort Aitutaki, Cook Islands