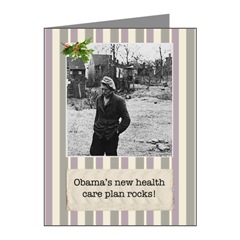 Iowa City, IA, November 18, 2008 --(
PR.com
)-- Jobless claims are at an eight year high. Retirement savings shrink in real-time on fund management websites. And, according to some analysts, the United States is entering a deep depression that could be worse than the credit-market crisis. Amidst this depressing economic backdrop, one greeting card publisher is giving consumers something to laugh at: Great Depression Christmas cards.
Order of St. Nick's Depressing Times line of holiday greeting cards draws humorous parallels between the Great Depression and the current worldwide financial crisis. "People need to laugh now more than ever," owner and creative director Andrew Shaffer says. "Humor is essential to making it through tough times."
The paper greeting cards feature vintage photos from the Great Depression, enhanced with humorous verse such as "Have a Great Depression and a Subprime New Year" and "Obama's new health care plan rocks! I only wish I still had that kidney I sold to pay my heating bill".
Despite dire sales predictions for U.S. retail industries this holiday season, the Depressing Times line of holiday greeting cards has become a surprise bestseller for Order of St. Nick, outselling Order of St. Nick's other card lines by a wide margin.
Depressing Times cards have been featured in newspapers and magazines around the world since their release earlier this month. "The response has been phenomenal," Shaffer says, citing articles in such prominent international newspapers as Financial Times Deutschland.
Eight different designs are available exclusively online at www.depressingtimes.com. Consumers can buy the cards individually for $3.99 or in boxed sets of 10 for $18.99. Topics that the cards make light of include the subprime mortgage crisis, gas prices, unemployment, vanishing 401k, and health insurance woes.
About Order of St. Nick
Order of St. Nick is a greeting card publisher specializing in
funny Christmas cards
. All online orders are fulfilled by Cafepress.com. Order of St. Nick is a privately-owned small businesses headquartered in Iowa City, Iowa.
###