Autograph Magazine Inauguration Issue Celebrates Obama's Signature
Autograph Magazine celebrates Obama's Inauguration with an in-depth pictorial cover story on Obama's signature. You'll find out what it's like to meet Obama, if this is a good time to buy, what to be wary of, and how you still may be able to get Obama's autograph for free.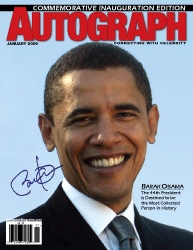 Santa Ana, CA, November 21, 2008 --(
PR.com
)-- Barack Obama is poised to become the most popular president since John F. Kennedy the moment he is sworn into office on January 20. The value of his autograph has skyrocketed as demand surges worldwide. But is it a good time to buy Obama's autograph? Can you be sure it's real? How can you get Obama's autograph for free? These questions and many others are answered in
AUTOGRAPH Magazine's
pictorial Obama Inauguration issue.
"This is the time to be learning about Obama's autographs. I wouldn't buy now unless you're willing to accept extra risk," says Steven Cyrkin, "Autograph's" editor and publisher. "If you can't wait, be extra careful. Obama's signature is stylish but easy to forge, and forgeries probably outnumber genuine Obamas by 15 to 1. Right now I wouldn't buy one that wasn't authenticated by a top independent authenticator like PSA/DNA."
Many people are paying too much for Obama's autograph, according to Cyrkin. "Prices are all over the place and a lot of people may be paying twice or more what would six months from now. You could overpay by thousands for highly desirable items like signed first editions. Give the market time to sort itself out. Odds are it will save you money."
Fake Obamas…from Obama?
An Autopen copies a genuine signature and then duplicates it on demand using a pen or marker. Commonly used by politicians that get a lot of autograph requests, the results look real. It's the arch nemesis of autograph collectors.
"A lot of fake Obamas come from Obama himself," Cyrkin explains. "He's been using the Autopen for years, but he's the only person I've ever heard of who took one on the campaign trail. If you asked for an autograph at a rally and didn't see it signed yourself, odds are it is a worthless Autopen signature. But we see them being offered all over as real."
The Autograph Obama Inauguration issue offers in-person experiences of what it's like to meet Obama, examples of his autograph, forgeries and Autopens, pointers for identifying a genuine Obama and compares him to the last five presidents. "He's a south paw," Cyrkin adds. "Like five of the last seven presidents."
The Obama Commemorative Inauguration Issue will be released to bookstores and newsstands December 23 in limited quantities. The only way to assure you'll get one is to order online through November 30 at
http://store.autographcollector.com
. The price is only $5.95 plus shipping and handling.
###
Contact
Autograph Magazine
Steven Cyrkin
714-263-3565; cell 310-995-9338
www.autographmagazine.com

Contact