The Chartered Institute of Taxation Returns to Second Life® with the Editor of Taxation Magazine
The Chartered Institute of Taxation (CIOT) is returning to Second Life ® to discuss the tax implications of doing business in a virtual world with the editor of Taxation Magazine.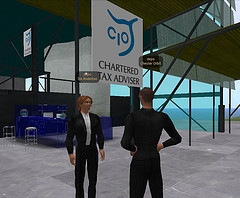 London, United Kingdom, November 28, 2008 --(
PR.com
)-- A year ago The Chartered Institute of Taxation (CIOT) went into Second Life to inform residents about the tax implications of trading in cyberspace. The
CIOT has come back to update residents interested in these matters and of any developments since the previous event.
You might think that what happens to your avatar in Second Life(r), or in any other virtual world, has no relevance to your real-life tax bill. You may be wrong, particularly if you are a UK resident, and especially if you are making money in-world in a systematic way.
Establishing the true position is not always straightforward, and it is a good idea to consult a Chartered Tax Adviser (CTA) or other qualified UK tax professional for advice if you have any concerns. He or she can advise you based on your specific circumstances, whereas this event will only be a general introduction.
Join Tax Anderton and the Editor of Taxation Magazine to discuss various tax issues that affect people in Second Life.
The event will be hosted by depo consulting ltd and is to be held on the depo business park on Tuesday 2nd December at 3:30pm GMT / 07:35am PST.
The SLURL to the exhibition is:
http://slurl.com/secondlife/depo%206/147/138/37/?title=Chartered%20Institute%20of%20Taxation%20Event
###
Notes to Editors
For press information contact Simon Goldie on 020 7245 4122 (direct line), 07879 497316 (mobile). Email sgoldie@ciot.org.uk
Contact
depo consulting ltd
Peter Dunkley
+44 7713 795563
www.depoconsulting.com
Switchboard = +44 (0) 1908 542173

Contact