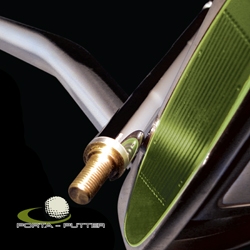 San Diego, CA, December 10, 2008 --(
PR.com
)-- As the hassle of holiday air travel sets in, many gift givers and golf enthusiasts are quick to identify the utility and cleverness of Porta-Putter.com. The unique San Diego based company specializes solely in the transformation of personal golf putters into portable putters so as to improve golfers' traveling and golfing experiences.
The Porta-Putter service works by inserting a sleek precision insert in the center of a traditional golf putter shaft. This sleek and light weight insert enables the golfer to take their favorite putter apart into two pieces and pack it along in their suitcase when traveling.
"Our simple and compact solution allows traveling golfers to avoid the limits of rental putters," said founder Bob Blumberg. "The putter is responsible for almost half of the golfers' score. The ability for golfers to travel with their favorite, familiar putter gives them a great advantage over their fellow golfers who are stuck using rental putters."
By partnering with the leading aerospace precision machining company, Porta-Putter has the unique ability to precisely transform personal golf putters into a portable putter without affecting performance. Blind performance testers, which include PGA Professionals and golf enthusiasts, verified no difference in the touch or feel of their original putter and the same style putter that has been transformed into a portable putter.
"It doesn't feel like there is any vibration difference or torque," exclaimed PGA professional Steve Vaughn, Director of Instruction at The Crossings at Carlsbad. The Porta-Putter shaft "…feels like a normal shaft. In fact you don't have to have two putters, you can just have this (the Porta-Putter) putter as your original putter."
Porta-Putter launches their new and unique golf gift and gift certificate options just in time for the holiday season. To learn more, visit www.porta-putter.com.
About Porta-Putter:
Porta-Putter founders and avid golfers Bob Blumberg and Sherwin Chasen have created a revolutionary way for golfers to travel with their favorite putters. With the sleek, patented insert, Porta-Putter has the ability to transform a personal golf putter into a portable putter fit for travel. With a Porta-Putter, golf enthusiasts no longer need to lug their clubs or settle with an unfamiliar rental putter from their destination course. Porta-Putter is currently offering their service and holiday golf gift certificates online at www.porta-putter.com.
###