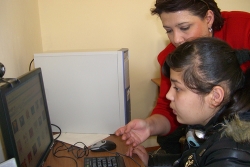 Los Altos, CA, December 17, 2008 --(
PR.com
)-- On Saturday, November 29, 2008, Tatyana Kanzaveli, the CEO of Global Learning Foundation (GLF), Esther Dyson, advisory board member of GLF, local volunteers, and orphanage administrators attended the Global Orphanage Network kick-off event at the Buzovny Orphanage House in Azerbaijan.
As part of the kick-off, over 100 children at the orphanage received a remodeled computer lab, six brand-new multimedia PCs with video cameras, headsets and high speed internet access. Volunteers will be teaching the children English and communication skills. "I am so excited that these kids living in a rural area in Azerbaijan, with hardly a chance to go anywhere outside their orphanage now will be able to communicate with kids all over the globe. They will get to learn English and use the internet. This will definitely give them a better chance to be successful in the future," – said Tatyana Kanzaveli.
A social networking website
http://www.globalorphans.ning.com/
will be used to facilitate global interactions between children in orphanages and their supporters worldwide. "It was inspiring to see the children react to all the attention," said Esther Dyson. "I took photos of the children and posted them online [on a protected site]. I'm hoping that they will go online and identify themselves, and see themselves in a broader context."
The Global Learning Foundation takes an integrated approach in providing orphaned children in developing countries core skill sets in order to enable their future participation in the global economy. Its mission is to help them rejoin society as productive members.
Initial funding and support for this program was provided by the Yahoo! Employee Foundation and Google.
About the Global Learning Foundation:
Founded in 2007, the Global Learning Foundation addresses the educational needs of children in developing countries. As part of its program, The Global Learning Foundation provides funds for English language and special skills teachers, Internet access to children in orphanages in developing countries. The Global Leaning Foundation is a 501(c)3, federally registered, tax-exempt organization, and receives over hundreds contacts and requests for service each year (either in person, via phone or online).
For up-to-date information about this and other projects supported by Global Learning Foundation, please visit
http://www.globallearningfoundation.net
.
To join the Global Orphanage Network please visit:
http://www.globalorphans.ning.com/
###