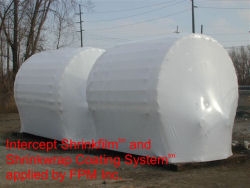 Braintree, MA, January 21, 2009 --(
PR.com
)-- Offered by Liberty Packaging Co., Inc., Intercept Shrink Film has a history of protecting inventory and equipment for indoor storage and outdoor storage, and for protection when shipping anywhere around the world.
Using Intercept Shrink Film for wrapping emergency generator sets, CAT project manager Tim Pritchard wrote: "In all cases the equipment was unpacked at overseas platform manufacturing sites, and found to be in the same as-new condition in which it left our works." From Seatram project director Ted Del Borello: "Encapsulating with Intercept products has ensured that the equipment has reached destination with its pre-shipment condition maintained."
Intercept products work by sacrificially reacting to the atmospheric contaminates that cause rust. Thick gauge Intercept also is reliable for keeping moisture out of the package and off equipment.
Intercept packaging is RoHS and REACH approved.
Also available is the Intercept air moving fan unit which, when placed inside a large package with many voids, will flow the air through the reactive filter making for a safe inside containment. Once the air inside the package is pristine, the Intercept reactive plastic will keep it that way. This method can protect sensitive equipment or machines in long term storage.
Inventory, plant equipment and construction machinery that is rust free, clean, immediately ready to go, that does not need to be cleaned up, and is free from corroded parts requiring replacement, will give companies timely advantages over the competition. Companies may find that if equipment requires new parts to be operational when business returns, that those parts are unavailable, requiring a purchase of new equipment.
Intercept Packaging has been proven to be easy to use and cost effective.
Shrink torches are available for purchase or the packing process can be contracted to Intercept certified installers. Contact: Liberty Packaging Co., Inc.
www.libertypackaging.com
(800) 776-5756
Photo courtesy of FPM, Inc.
Intercept Shrinkfilm™ and Shrinkwrap Coating System™
applied by FPM Inc.
###