Aerial Products Corporation Chooses Renasis SAP36g High Powered Access Point for Mission-Critical Solutions
Robust radio provides affordable, reliable high speed wireless internet and network connections.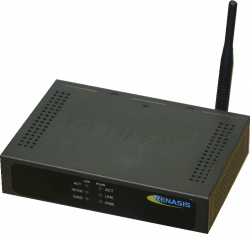 Lehi, UT, January 22, 2009 --(
PR.com
)-- Aerial Products Corporation, one of the United States' most respected balloon and blimp manufacturers, has selected the Renasis SAP36g to help meet difficult challenges faced by its clients. In one case, Aerial Products devised a method for filming the flight of a UAV by triangulating three balloons, each equipped with the Renasis SAP36g high powered access point and 4 megapixel IP cameras, all stationed around the test area, with one control SAP36g on the ground. The resultant film enabled their client to assess the UAV's performance.
In another case, a prominent technology and manufacturing company wanted to develop a remote controlled blimp to broadcast at indoor convention centers and in sports arenas during sponsored events. Aerial Products used the Renasis SAP36g to broadcast live video to a laptop connected to the event's Jumbotron and another for the lobby's plasma TV's. By using the SAP36g broadcasters avoided the typical issues of frequency problems and interference associated with analog TV transmission systems.
The U.S. Navy needed a means of distributing camera data to multiple shipboard persons during several Navy experiments. They contacted the leader in aerial surveillance, Aerial Products Corporation, which used SAP36g's during an extended period of continuous monitoring and recording. Aerial Products CEO, Kevin Hess, notes, "The transmission power of the SAP36g was sufficient to provide reliable bandwidth in a cluttered spectrum environment. Further, the efficient power consumption of the unit provided the ability to remain on station for the required duration of these experiments."
Mr. Hess reports that "the best aspects of the SAP36g were low power consumption, high radio power, the small foot print of the unit and ease of setting it up. [The] system was deployed pre-configured by APC and literally no phone support was required during initial deployment."
The Renasis SAP36g is available now from your local distributor or call 801-407-1300. Visit
www.renasis.com
to find a distributor near you. To reach Aerial products, call 800-973-9110 or visit
www.aerialproducts.com
.
About Aerial Products Corporation
Aerial Products Corporation specializes in aerial imaging, aerial photography, and aerial advertising. Its electronics systems are designed locally, engineered internationally and manufactured and supported at their headquarters in Deland, Florida. As a natural progression from the manufacture of aerial photography equipment for commercial use, Aerial Products began producing systems for defense and surveillance, ranging from simpler, cost-effective units to the more robust, high-demand, mission-critical platforms used by the military and DOD research agencies. Some Aerial Products applications include commercial advertising, sports arena coverage, border control, military reconnaissance, civil authority security, and police surveillance. They built the first-ever Goodyear-authorized replica remote control Goodyear Blimp. Contact Aerial Products Corporation at 800-973-9110 or
info@aerialproducts.com
and
www.aerialproducts.com
.
About Renasis
Renasis, LLC, specializes in the design, development and manufacture of wireless communications products, services and system solutions. Established in 2003 to meet the growing need for products which extend the reach of Wireless Local Area Networks (WLAN), Renasis' suite of broadband, high-speed wireless products includes amplifiers, access points, cables, antennas and a variety of wireless accessories. Experts in the innovation and implementation of wireless technology, Renasis provides OEM/ODM design services to a growing number of premier manufacturers. Renasis is headquartered in Provo, Utah, and can be reached at 801-407-1300 or
info@renasis.com
and
www.renasis.com
.
###
Contact
Renasis
Beth Chun
801-407-1300
www.renasis.com
Cell phone: 801-358-7199

Contact