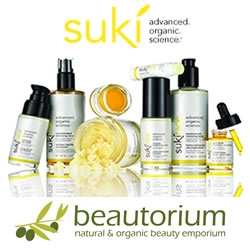 Charlotte, NC, January 27, 2009 --(
PR.com
)-- beautorium has added active sustainable science brands suki and Sophyto to its growing repertoire of the best in organic and natural beauty. Both offer the latest in organic skincare, and combine cutting edge science with pure, natural actives to deliver breakthrough results.
beautorium founder Ann Francke said: "Active naturals are the newest development in green beauty with organic food-based ingredients and pre-and pro-biotics being top of the list in latest skincare trends. suki and Sophyto are leaders and innovators in this space and we are delighted to add them to our beautorium collection."
suki, founded in 2002 in Massachusetts by Suki Kramer in order to help her fight her eczema, has since grown to be one of the most effective and admired natural beauty brands in America. Suki uses 100% pure active naturals in organic bases, for a total of 90% organic content; all ingredients are transparent, traceable and trusted - just as you'd expect from a line whose mantra is "know your beauty."
Suki said: "After the first time I saw beautorium, I knew I wanted to partner with Ann Francke in her endeavors! The website is beautiful and I love how informative it is on organic, natural and on each brand. Since suki® advanced.organic.science.™ is all about education, bringing sensuality and results into naturals and organics, I knew we were clearly the perfect fit!"
suki's beautiful lemon-yellow sustainable packaging will brighten your bathroom and your day, as will the lovely luscious scents. A favorite at film fests from Sundance to the Oscars, suki also has a loyal following of consumers from coast to coast, including celebrities such as Tom Hanks.
Signature products include wonderful lemongrass scented sukipure exfoliating foaming cleanser, the versatile sukicolor pure cream stain for face and lips, and the newly launched suki-togo collection for travelers and those who love to try.
beautorium is carrying the compete line of skin, color, hair and body care and also offering an Exclusive Free Gift with purchase when you spend over $50 on any suki products.
Sophyto, launched in Feb 2008 in Britain after 9 years in research and development, and was heralded by Cosmetics Design Europe as the first professional certified organic skincare line.
Founder and Formulator Karen Sinclair, a chemist on the board of the UK's Soil Association, strove for perfection in highly certified and organic skincare that lived up to the promise of sustainable ethical science. The result was Sophyto: it averages 95% organic content and active ingredients, is packed full of the latest pro- and pre-biotics for treating everything from acne to wrinkles, and carries the stringent Soil Association and Vegan seals.
Karen said: "Working with beautorium was a no-brainer for Sophyto. So many 'eco' brands these days green wash which is very misleading, what beautorium offers the caring consumer is peace of mind with trusted, elegant and effective safe products. It's our great pleasure to be part of their online natural and organic beauty emporium. We wish them great success and congratulate them on their exceptionally high standards and criteria."
Sold primarily through doctor's offices here and in the UK , some of world's the leading integrative medical practitioners are among it's biggest fans including Dr. Frank Lipman, author of the recently published Spent and advisor to Donna Karan and David Letterman. The line has also captured the loyalty of Elle Macpherson.
Sophyto takes the stress out of skincare with its simplicity. The 11 different products can be used in combination for a complete skin regime that's guaranteed to produce breakthrough results in 30 days or your money back. You can find the full line at beautorium.
For more information about Suki, Sophyto or beautorium, please contact press@beautorium.com, call 866 557 2243 or log onto
www.beautorium.com
.
About beautorium: We take the Guesswork out of going green...
An online marketplace for the planet's premier collection of natural and organic beauty care, the beauty of beautorium is its natural simplicity. It takes the guesswork out of hunting for the truly natural, truly organic, good-for-your-skin beauty ware so all that's left is the gathering. The beauty marketplace at large is saturated with "organic" products and it's hard to know what's real and if it works. Having done the homework, beautorium has hand-picked and carefully screened each and every brand it offers to ensure consumers get the most out of a positively organic experience.
###