Raymond Vineyards Partners with Asian Art Museum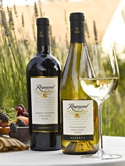 St. Helena, Napa Valley, CA, January 30, 2009 --(
PR.com
)-- Raymond Vineyards is pleased to announce their new partnership with the Asian Art Museum in San Francisco, CA. Raymond is the official wine sponsor for the Museum's private donor lounge, The Peterson Room, and their Napa Valley Reserve Chardonnay and Cabernet Sauvignon will be poured at the February 18th reception and preview of The Dragon's Gift: The Sacred Arts of Bhutan for members of the Avery Brundage Circle, Jade Circle and special guests.
"The Peterson Room is such a beautiful place. We felt our wines would compliment the museum and this room perfectly," commented Krisi Raymond, Raymond Director of Strategic Planning. "We have been a supporter of the arts over the years and look forward to an exciting year with the Asian Art Museum."
The Peterson Room and Garden are named after long-time supporters of the Asian Art Museum, Richard H. Peterson and Marianne Peterson. Richard has been a Trustee of the Museum for over a decade and they were early contributors to the building of the new Asian Art Museum at the Civic Center. The Peterson Room and Garden is a private donor lounge and beautiful Pan-Asian garden located in a secluded corner of the museum. It is open only to Jade Circle and Avery Brundage Circle members and their guests. The elegantly appointed room is a place where donors may relax, enjoy a beverage, or arrange for a lunch. The museum often uses the room to entertain visiting dignitaries and host special events.
East of Mount Everest and bordered by India and Tibet, Bhutan is a remote and mystical kingdom, considered by many as "The Last Shangri-La." A sovereign nation that has maintained its cultural, artistic, and religious traditions intact, it is one of the few countries in Asia never colonized by its neighbors or Western powers. The first exhibition of its kind, The Dragon's Gift provides an exceptionally rare opportunity to view some of the most sacred and beloved Buddhist arts in Bhutan. Many of the 150 objects – intricate paintings, sculptures, textiles, and more – are still used in temple and monastery rituals and never have been accessible to a Western audience. All are on public view for the first time, February 20–May 10, 2009.
###
About Raymond Vineyards
Raymond Vineyards was founded in 1971 by Roy Sr., Roy Jr. and Walter Raymond. The Raymond family's roots in the Napa Valley date back to 1876, when Jacob and Frederick Beringer founded Beringer Brothers Winery. Five generations later, Craig and Krisi Raymond have joined the family business to continue the family's winemaking legacy at Raymond Vineyards.
Celebrating over thirty-five years of Napa Valley winemaking tradition, Raymond produces Napa Valley Cabernet Sauvignon, Chardonnay, Merlot and Sauvignon Blanc as well as limited production Cabernet Sauvignons from the Rutherford, St. Helena and Oakville appellations and Generations Napa Valley Cabernet Sauvignon. A limited production Small Lot series of wines were introduced in 2008 and available exclusively to the winery's club members and tasting room guests.
Contact
Raymond Vineyards
Mitzi Inglis
800-525-2659
www.raymondvineyards.com

Contact