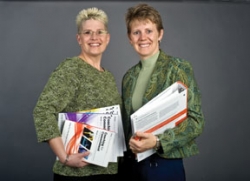 Pueblo West, CO, March 07, 2009 --(
PR.com
)-- Cindy Coe and Dr. Amy Zehnder, Authors of Coaching for Commitment (C4C™), Ed. 3 (John Wiley & Sons, 2007) and co-owners of InsideOut Discovery™, Inc. (IOD™) are hosting a rare public offering of their popular coach-training program.
When asked why the offering is rare, Zehnder said, "We typically only offer this workshop in-house with clients. We decided to make an exception this year because there was interest and because this discounted public offering will allow those businesses interested in the program to do a test drive--sort of a try before you buy--at a low introductory rate! For individuals, it will give them a chance to attend the workshop, which wouldn't normally be the case if they weren't part of one of our client organizations."
Coe and Zehnder are best known for their work as executive coaches, keynote speakers and master facilitators. They work with clients internationally to help them improve their leadership quotient, management and coaching skills, employee engagement and retention, team effectiveness, operations and ultimately the bottom line. Coe and Zehnder have a style that has been described as dynamic, engaging and even refreshing.
The C4C™ two-day coach-training workshop, to be held in Pueblo, Colorado on April 7th and 8th, is unique in its approach and will revolutionize the way you think about coaching. Coaching as defined by C4C™ is more business-focused. This dynamic duo agrees that "This kind of coaching uses a clear process, model and skills to focus on individual strengths, knowledge, accountability and action planning that leads to results, achieved goals and improved engagement on the part of the person being coached."
This workshop is being offered at a significant discount from regular pricing. Breakfast, lunch and materials are included in the program cost. Seating is limited. The deadline to register is March 27, 2009.
If you are interested in finding out more about the C4C™ workshop or to obtain a registration packet by email, please contact Cindy Coe at 719.761.5226 or email inquiry@insideoutdiscovery.com. Info pack and registration form attached to this (pr.com) press release (see below).
Workshop Audience: HR and OD professionals, executives, leaders, managers, supervisors, training professionals, business coaches, healthcare administrators and professionals, medical professionals and practice owners, small business owners, educators, school administrators, life coaches, ministers, non-profit directors, counselors, consultants, real estate and sales professionals as well as government department directors and managers.
(Photo by Pueblo Chieftain)
###