Dream Village Launches Saved by the Well; US Kids Participate in World Water Week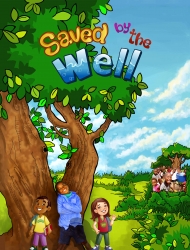 New York, NY, March 18, 2009 --(
PR.com
)-- Dream Village launches March 20, 2009 as a kick-off to World Water Week (March 22-28). Their first book, Saved by the Well, discusses the global water crisis in a way that is accessible, entertaining, and inspiring for any child. One need only speak to the teachers, scout leaders, and community center representatives across the US who will use this book and the company's website to teach the children they work with about the global water crisis.
"Dream Village uses picture books and the web to teach children about a specific social, economic, or environmental issue and then puts them in a position to do something about it," says Suneet Bhatt, Co-founder of Dream Village. "We donate a minimum of 50% of our profits to charitable causes based on votes cast by our readers." The goal, according to Mr. Bhatt, is to help children realize at a very young age that they have the power to make a difference in the world.
Dream Village is proud to join a host of organizations commemorating World Water Day, an international day of observance and action, focused on drawing attention to the role water plays in sustaining life. World Water Week forces people in developed countries to contrast the abundance of water in their lives with the millions of people around the world who struggle for life's most basic resource. According to the WHO/UNICEF Joint Monitoring Programme on Water Supply and Sanitation, approximately 1 in 6 people worldwide do not have access to the necessary basic amount of freshwater needed for drinking, cooking and cleaning.
Saved by the Well places the global water crisis in terms that children in elementary school can understand, and that people of all ages will enjoy and learn from. The book tells the story of children in Spontania, Mozambique who struggled for access to clean, fresh water--until PlayPumps International gave them the tools to gain access to clean water. PlayPumps International installs innovative, sustainable, patented water pumps powered by children at play. The PlayPump system doubles as a water pump and a merry-go-round, which makes the process of getting clean water, fun.
"It is important for all children to learn about these issues," says Pinki Shah, a 5th grade teacher at the Manhattan Country School, "because kids make change." Ms. Shah will be coordinating one of 40 awareness sessions across the US on March 20th. She and her class of 5th graders have been instrumental in the evolution of Saved by the Well and of Dream Village overall.
Dream Village is a start-up social enterprise with core team members based in Virginia, Pennsylvania, New Jersey, and New York. The organization was officially formed in October 2009, after winning $10,000 in start-up funding from Ideablob, a small business plan competition run by Advanta, one of the largest issuers of small business credit cards (with an office in Philadelphia).
Dream Village Program Highlights
On March 20th, over 1,000 children (in 40 locations in 14 states) will read Saved by the Well, visit their Website, learn more about the issues discussed in the book, and cast a vote telling Dream Village where to donate its profits. Participating states are: AK, CA, CT, FL, GA, MA, MD, NC, NJ, NY, OH, PA, VA, and VT.
Children who vote on their site during World Water Week will also determine where an additional $2,000 will be donated. A private sponsor has agreed to donate $2,000 to the causes featured in Saved by the Well and discussed on the website but will allocate that $2,000 according to the votes cast by their readers during World Water Week.
On March 20th, they will also kick off a "Dream Maker, World Changer Contest" where the lucky winner will win a full scholarship to Beam Camp, a $5k value.
Their launch will feature partnerships with nonprofit organizations like GlobalGiving, PlayPumps International (featured in Saved by the Well), Camfed (the Campaign for Female Education) and Friends of the World Food Program.
They are working on a variety of impressive strategic partnerships, including one that positions them to launch an iPhone version of Saved by the Well shortly.
Their book pipeline features two more books this year, including one that teaches kids how to bring their own ideas to life (titled The World's Greatest Pillowfight and based on a true story).
Dream Village won the October "Ideablob" small business plan competition sponsored by Advanta Credit Cards, has been accepted into "Investors' Circle," is an Echoing Green Semifinalist, and has presented at conferences ranging from DEMO 2009 to Footprints (hosted by Duke University).
###
Contact
Dream Village
Melissa Corbett
(913) 449-9876
corporate.dream-village.org
• Corporate site (an informative series of blog posts): http://corporate.dream-village.org/
• Children's site (Launching 3/19): http://www.dream-village.org
• DEMO 2009 (DV was featured on a panel of social entrepreneurs): http://tinyurl.com/DVatDEMO200

Contact
Multimedia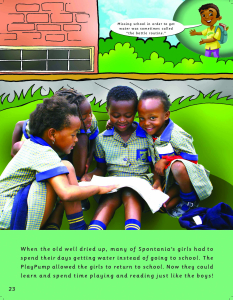 A group of girls who can now attend school because they do not have to spend their days getting water for their families. Note the blend of photography and illustration.