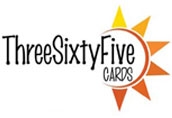 Derry, NH, March 26, 2009 --(
PR.com
)-- Like wallet-sized photos being whipped out to show defenseless passers-by, proud parents love their kid's artwork and want to show it to absolutely everyone. ThreeSixtyFiveCards.com is happy to announce their new "Kids n' Charity" greeting card design competition which could be the perfect vehicle with which to show your child's talents to the world while making it a better place at the same time.
"Kid's artwork and charitable contributions just seem to belong together," said ThreeSixtyFiveCards.com President, Dave Anderson. "Allowing the winning designers to choose their own beneficiaries is a great way to teach children about charitable giving in general and why it is so important on the world stage."
Any child eight or under is welcome to submit their work for consideration. Parents can submit one to three pieces of their child's original artwork and then encourage them to select a charity they would like to help promote. Designers will then turn winning submissions into
photo birth announcements
, thank you cards, holiday cards or another item in one of the site's many categories. Children will have their submissions returned to them with a special contest winner's certificate perfect for hanging on their bedroom wall.
The most important part of the contest is that 10% of all profits from the sale of the card which a winning child's artwork inspires will be donated directly to their charity of choice.
Submissions should be sent along with the child's first name, age and a self-addressed, stamped envelope should they want the artwork returned. Maximum snail mail submission size is 11" x 17" and the address can be found below. Digital copies of the artwork may be emailed to info@ThreeSixtyFiveCards.com as long as the files are no less than 150 DPI. Please reference "Kids n' Charity Contest" in the subject line.
Once a business quarter ThreeSixtyFiveCards.com will make a donation to the charities chosen by the winning kids in their own names. Be sure to check the site's "
Kids n' Charity
" section periodically to see all of the fabulous designs young artists are creating while helping to make the world a better place.
About ThreeSixtyFiveCards.com
Founded in 2007 in beautiful Southern New Hampshire, ThreeSixtyFiveCards.com is a web-based company offering top-quality photo cards which are both personalized and well-designed. The company strives to provide exclusive designs, simple personalization, a powerful preview suite, beautiful non-gloss stationary and second-to-none customer service.
Submit by email: info@ThreeSixtyFiveCards.com
Submit by Snail Mail:
Kids n' Charity Contest
ThreeSixtyFiveCards.com
11 Whitney Grove Road
Derry, NH
03038
###