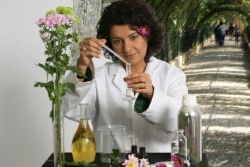 Charlotte, NC, April 08, 2009 --(
PR.com
)-- Dr. Mah Hussein Gambles, founder of Saaf Skincare, has just been named one of the UK's Top 100 female entrepreneurs.
Saaf Skincare is available exclusively at beautorium in the US. "We are delighted to see another of our beautorium brands setting the pace with their innovations in natural and organic skincare and being rewarded for their groundbreaking accomplishments," said Ann Francke, beautorium President and co-Founder.
Saaf Skincare 's founder, Dr. Mah, was chosen as one of the top 100 U.K. female entrepreneurs in a recent survey by Real Business Magazine in Association with Royal Bank of Scotland and the Daily Telegraph
Saaf, founded in 2007, is 100% natural, over 95% organic, vegan, Halal and recycled. The name means pure in Persian, and Mah uses highest quality cold-pressed organic oils with a rich pedigree of efficacy over thousands of years. Black Cumin seed, one of her ingredients, was used by Cleopatra and found in King Tut's Tomb.
"Dr. Mah is one of the most respected clinical pharmacists in the UK and she deserves this honor for creating the Saaf line of certified natural organic skincare and building it to a global brand," says Ann Francke. Saaf is currently sold in 11 countries, and is popular in Europe and the Middle East as well as the UK. Beautorium is the exclusive retailer of Saaf Skincare in the US. "We are proud to be partnered exclusively with Beautorium in the U.S. as we share their high standards," says Dr. Mah.
Saaf and Beautorium have also collaborated on a Safe Cosmetics Documentary, shown recently on MSNBC. Saaf products include Organic Ultimate Moisture Face Serum, Organic Enriching Hair Oil, and Organic Pure Face Cleanser, which is featured in the May issue of Lucky magazine.
Saaf counts members of the Royal family and make-up artist Jemma Kidd among its celebrity devotees. The line retails for $19.95 through to $64.95.
###