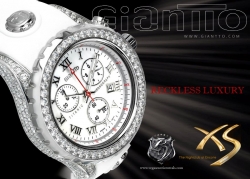 Los Angeles, CA, May 15, 2009 --(
PR.com
)-- JCK booth # 28081
- The Giantto Group, a prominent Los Angeles based Jewelry Company specializing in original custom jewelry and exclusive timepieces, launches and expands the entire brand Giantto Timepiece collection and Von Dutch Watch collection world wide. With continued success and more than positive reaction to the collections, the entire Giantto group itself expands and transforms into an array of artistry and style that transcends typical industry standards. The Giantto Group announces the first feature film which headlines the Giantto popular T3 watch. The movie, entitled "Next Day Air," just had its official red carpet premiere at the Arc light Theaters on Sunset Blvd. in Hollywood CA on April 29 and is already getting rave reviews. The movie stars Donald Faison, well known rapper Mos Deff, and Mike Epps just to name a few. It is an urban influenced comedy directed by the famous Benny Boom, who has put together many of the hip hop industry biggest music videos like 50 cent Kane West , R Kelly, Pussy Cat Dolls, Sean Paul, Busta Rhymes, and many more. The new Yellow Gold IP version of the popular Giantto T3 is actually a character in the movie and has a very important role in the film. The Giantto Watch saves a man's life, and to see exactly how, you will need to see the film. The Giantto Group especially in dedication, made a very limited edition of T3 with the film title, and limited piece number on the case back.
– The Giantto Group Hosts its 5th annual JCK Las Vegas event at The XS night club inside of the Wynn Hotel, Encore towers Sunday the 31ST of May. This evening will be full of red carpet celebrities, exotic cars, models, diamonds, and a rowdy group of high caliber individuals all celebrating the 9th anniversary of the Giantto Group and the collaboration with fashion company English Laundry. Dean Lister a UFC and PRIDE veteran will be hosting this upscale event. Most recently, Dean became the 2005 Abu Dhabi Super fight Champion and has never been knocked out, he also has over a 111 wins. Dean will be hosting along with Heidi Cortez who is best known for Sunset Tan on the E Network, a super hot international model, best selling Author that has been in playboy, and a Howard Stern radio personality.
– On Saturday the 30th of May, the Giantto Group will host a more formal cocktail at JCK booth # 28081 announcing the English Laundry collaboration, celebrating the 9th anniversary of the group, and donating An Exclusive Edition diamond timepiece to Jewelers For Children Charity.
The JFC, will be hosting an upscale Facets For Hope dinner at the Venetian Hotel on Sunday evening. Since 1999, nearly $30 million has been invested in special programs to reach children whose lives have been devastated by catastrophic illness or life-threatening abuse and neglect. The Giantto group now joins the "Industry with a Heart" movement the JCF created.
- US National CRIT Champ, Rahsaan Bahati of Rock Racing wore a Giantto neon edition during the largest bike race in southern California and came in first place even beating out tour de France winners and will host an Giantto Group event at CS lounge Citizen Smith in Hollywood CA on June 4th to celebrate. Rahsaan, said right after the race, " my watch was so bright it blinded the competition as I went flying passed them" as he described the intense neon red strap he chose to match his Rock & Republic cycling uniform. Athletes of all different types have all claimed that a Giantto Watch brings them luck and it proved true again. From Ben Rothersberger when he first came out of college, then got the Giantto timepiece and went all the way and won the Super bowl that year for Pittsburg. Floyd Mayweather knocked out both Hatton and Oscar de la Hoya, and the night before both fights was sporting Giantto. Many Pacquiao also beat Oscar De la Hoya, but most recently knocked out Hatton and is also part of the Giantto Crew. Rumor is that Floyd and Many are set to fight and with both being Sponsored by the Giantto Group. It is said that the winner will receive a very special timepiece one of a kind Limited edition to be one of the most unique pieces ever made by the company.
For further information on Giantto, please visit
www.giantto.com
.
For further information on Von Dutch Watches, please visit
www.vondutchwatches.com
.
Media Contact for the Giantto Group
Taleen G. t: 213-623-8939 ext. 27
taleen@giantto.com
###