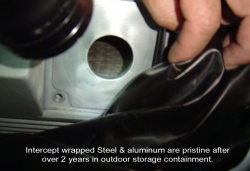 Braintree, MA, May 28, 2009 --(
PR.com
)-- J.M. Industries has one of the largest inventories of semiconductor manufacturing equipment for sale in the world. They service and refurbish not only this high tech sophisticated equipment but all sorts of vacuum pumps and blowers. With materials provided by Liberty Packaging Co., Inc., JMI completed a 28 month study showing that the Intercept Technology™ packaging can save J.M. Industries 90% of its cost to maintain inventory and keep their products spotless.
JMI Owner Jay Stabile contributed: "When considering all facets of keeping inventory; building cost per square foot, building climate control, taxes on the building, etc., we can buy or lease outdoor storage space at a minimal expense, wrap the equipment in Intercept packaging and store at $10 per square foot compared to $100.00 per square foot inside our warehouses."
Most important to JMI is that the inventory be kept pristine. Their customer satisfaction, and hence return business, relies on equipment that is in working order and has a "fresh" appearance. With some equipment valued at $10,000 for each piece, it is an expensive inventory to protect. Thus, it is important that corrosion and degradation not attack any of the various metals, rubber seals, optical glass, mechanisms, plastic parts, and housings because JMI offers a warranty to their customers.
By wrapping the valuable inventory in
Intercept Technology packaging
, the corrosive gases are neutralized by Intercept's copper backbone and a clean, safe environment is maintained inside the package. JMI takes these steps because failure isn't an option.
To contact J.M. Industries, go to www.jmind.com
Liberty Packaging Co., Inc., is a small, woman-owned business with 13 years of experience providing sales, consulting and technical information on Intercept Technology packaging to our current and potential customers.
###