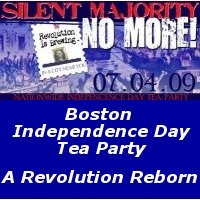 Boston, MA, June 17, 2009 --(
PR.com
)-- Brad Marston, Managing Director of The Foundation for Conservative Solutions, LLC, and lead organizer of the Boston Independence Day Tea Party, speaking at a meeting of volunteer organizers, announced that Dr. Yaron Brook of the Ayn Rand Center will address attendees of the Boston Tea Party 2009. Yaron Brook, Ph.D., oversees all operations of the Ayn Rand Center, as well as its parent organization, the Ayn Rand Institute. He is the Center's lead spokesman on Objectivism and its applications and also specializes on issues related to business, economics and foreign policy.
Mr. Marston commenting on Dr. Brook's involvement said "I am delighted that someone of Dr. Brook's stature would choose to speak in Boston out of the hundreds of Tea Parties taking place on Independence Day. The Center's mission to advance individual rights fits perfectly with the positive message that we are trying to promote." The Boston Independence Day Tea Party is a rally in favor of individual liberty, free market ideals and Constitutional principles.
Marston further noted that an "already great line up of speakers has been further bolstered by the inclusion of Dr. Brook, John Ridpath, Senior Policy Analyst for the Ayn Rand Center, Dr. James Bohn, former staff economist at the Federal Reserve Board and Ralph Benko, author of The Webster's Dictionary and social media expert."
The Boston Independence Day Tea Party is a non-partisan event. Organizers have neither invited any elected officials to speak nor solicited funds from political parties. Attendees will have the opportunity to make donations and purchase items to help defray the costs of the event.
More information is available at www.BostonTeaParty.ning.com.
###