gukPhone, a Web Based Phone that Works Straight Through the Browser
gukPhone is a free service that uses the most recent technology to bring high-quality voice communication to people all over the world, without any needs of software installation.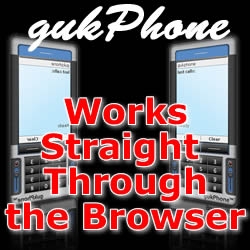 St. Albans, United Kingdom, July 21, 2009 --(
PR.com
)-- GUK Communications Ltd. starts with a new phone services:
http://www.gukphone.com
Using a PC for long distance calls does not need software installation anymore. GUK Communications has built this service for all people who only want to open the web browser for a phone call. No sensitive data is stored on the PC so that it can be used on every personal computer (including Internet Cafes). The user only needs to visit the gukPhone website, log in to his account and dial.
gukPhone uses most recent technology for high-quality voice communication. All services have been developed by GUK Communications Ltd., which makes it easy to add new features like IM functionality. With the implementation as a RIA service (Rich Internet Application), users do not need to download, upgrade and/or install new software - after navigating to the phone, every user has the recent version of the application available. The phone works on Windows, Mac, Linux and Solaris.
Related service providers offering telephony services, and charge substantially higher fees per minute plus a connection fee, with gukPhone people will save money.
Every registered user can test the service 60 minutes for free after signing up.
The new way of calling can be tested on:
http://www.gukphone.com
GUK Communications Ltd. is developing and integrating solutions around VoIP and RIA. The combination of traditional telephony and VoIP is the primary goal.
Further information about the company can be found on http://www.guktel.com
###
Contact
GUK Communications Ltd.
Ricardo Palazzi
+442080994147
www.guktel.com

Contact