Move 'N Store Opens Northeast Region Distribution Center
Leading self-storage industry supplier offers three-day delivery of boxes, padlocks, packaging materials and moving supplies in conjunction with retail consultations to help self-storage businesses increase profits.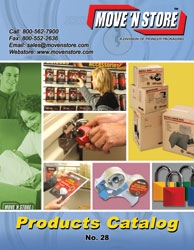 Phoenix, AZ, July 27, 2009 --(
PR.com
)-- Move 'N Store, a division of Phoenix-based Pioneer Packaging, Inc., is poised to bring a new level of customer service, product quality and convenience to self-storage facility operators throughout the Northeast and portions of the Midwest. Move 'N Store has opened a new distribution center in Altoona, Pa., which will offer the company's full line of Professional Movers Grade boxes, padlocks, packaging materials and moving supplies specifically designed to meet the retail needs of self-storage facilities. The Altoona center will provide custom delivery within three days to customers in Connecticut, Delaware, Maryland, Massachusetts, Michigan, New Jersey, New York, Ohio, Pennsylvania, Rhode Island, Virginia and Washington, D.C.
In addition, Move 'N Store representatives are available to consult with self-storage facility operators and managers to identify products that will meet their customers' needs and generate the most profit for their self-storage businesses.
"Regional distribution of packaging and moving supplies, particularly boxes, offers a number of benefits including faster delivery, lower cost and minimal risk of damage to the items in the order," noted Move 'N Store Vice President Jim Bryan. "Our improved ability to provide service in this region, combined with our expertise in the self-storage and self-move industries, translates into even greater benefits for self-storage businesses in these markets."
With over 25 years of experience in the self-storage industry, Move 'N Store is uniquely qualified to assist self-storage operators and managers in creating profitable retail centers within their facility locations. In addition, Pioneer Packaging has over 30 years of experience as a moving industry leader with a focus on providing the latest in packaging solutions.
Move 'N Store is the premier national supplier of moving and storage, packaging and security products to the self-storage and self-move industries offering nationwide service through a network of distribution centers in major metropolitan centers across the United States. Move 'N Store is a division of Pioneer Packaging, Inc., part of the Pioneer/Heritage Corporate Group.
###
Contact
Move 'N Store
Jim Bryan
800-562-7900
www.movenstore.com

Contact
Multimedia
Shop the Move 'N Store catalog for a wide selection of corrugated boxes, padlocks, packaging materials, and other items for self-storage businesses.