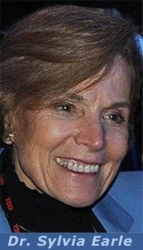 Princeton, NJ, August 01, 2009 --(
PR.com
)-- You've seen them on Discovery Channel's Shark Week, Animal Planet and the BBC − they are the top shark experts in the world. Now meet them in person for lunch or dinner, learn why they love sharks and why sharks need protection.
More than 20 of the world's top shark experts are allowing themselves to be auctioned on eBay during Shark Week 2009 to raise funds for the Shark Research Institute's conservation programs. Up for auction are dinners (or lunches) with the world's foremost shark experts. It is a unique opportunity to "talk shark" face-to-face, one-on-one, with an authority on sharks.
Shark experts and celebrities being auctioned include: Dr. Sylvia Earle, National Geographic Explorer-in-Residence and unquestionably the most eloquent spokesperson for ocean conservation; legendary filmmakers Jeff Kurr, Howard Hall and Marty Snyderman; award-winning underwater photographers Amos Nachoum and Don Tipton, marine painter and author Richard Ellis and Sherman Lagoon's Jim Toomey.
Also being being auctioned is Jeff Gallant, who studies the elusive Greenland Shark, Chris Fallows who studies and films the aerial acrobatics of huge white sharks off the coast of South Africa; Ralph Collier, the expert on shark attacks along the Pacific coast and Dr. Richard Fernicola who wrote Twelve Days of Terror, the definitive book on the 1916 shark attacks along the New Jersey shore that was the inspiration for Jaws.
These are just a few of the shark people being auctioned during the week. All of them have a wealth of information to share with their highest bidder.
How it works: Bid on a shark expert or celebrity that lives or works nearby, unless you are willing to drive or fly to the expert's location. The winning bidder pays for the celebrity's meal, and may bring guests. (An exception is field researcher Chris Fallows who will be taking his winning bidder out to sea with him to observe white sharks.) Shark Research Institute will introduce each winning bidder to his or her shark celebrity and the meeting is valid for one year. The two of you then set the date, time and place.
The auction starts Sunday, August 2 and will run throughout Discovery Channel's Shark Week. The easiest way to enter the auction is through the Shark Research Institute's home page at
www.sharks.org
.
All winning bids are tax deductible charitable contributions from US Federal 2009 income taxes.
###