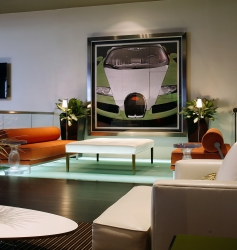 Winter Park, FL, August 05, 2009 --(
PR.com
)-- Multi-award winning design firm Beasley & Henley Interior Design added 6 new awards to its collection on Saturday night. The international design firm won big in this year's Aurora Awards, a 12-state regional competition of design, architecture and building excellence. (www.theauroras.com). The Auroras are in their 29th year.
Design Principal Troy Beasley says, "The competition in Aurora is always tough. We won this year because our designs were created by thinking 'outside the box'."
The Beasley & Henley team won:
2 Aurora Awards - Best Interior Design and Best Interior Detailing - for their Model at Ovation in St Petersburg (by JMC Communities, www.jmcdev.com). The Interior Design is modern and lively in bright whites fabrics and modern furnishings; the Interior Detailing is unique with creative ceiling designs, zebra and wenge wood, eucalyptus floors and many other features.
1 Grand Aurora Award for Interior Design. The Interior Design of Ovation was so spectacular, that it went on to win the Grand Aurora Award for Interior Design.
1 Aurora Award for Best Interior Detailing for a Private Residence in Naples, FL. This home won for its details, which include curved and domed ceilings, onyx flooring, a wave panel resin material in the Grand Salon and other unexpected materials created by Beasley & Henley.
1 Aurora Award for Best Recreational Facility for Luxautica Exotic Car Club in Orlando, FL
Designer Troy Beasley and his team created this two-story Club to display millions of dollars of exotic cars on the bottom floor and an exclusive club on the top floor. Cars are set under 'Match Box' car type settings and the exclusive club provides world-class modern furnishings, artwork and details.
1 Special Aurora Award for Unique Design. Beasley & Henley was presented with a very rare "Special Aurora' for Luxautica. The design was superb and project unique, not fitting into standard Aurora categories. This was a very unusual and very rare honor.
Beasley & Henley has won over 40 Aurora Awards. For more information on Beasley & Henley Interior Design or the Aurora Awards, please reach them at 407-6629-7756 or 239-774-1005.
###
Beasley & Henley Interior Design is a 16-year-old interior design firm, specializing in Luxury Interiors, Exclusive Residences and, Interior Architecture. Their work has been featured in regional and national publications and their awards are numerous. Beasley & Henley's award winning design and architectural detailing can be seen throughout Florida and across the country. Visit our on-line portfolio at www.beasleyandhenley.com. Blog.beasleyandhenley.com
Contact: Stephanie Henley
stephaniehenley@beasleyandhenley.com
407-629-7756 or 239-774-1005