Soilworks' Growth Prompts Expansion Into New Production Facility and New Corporate Office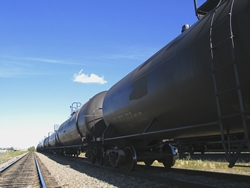 Chandler, AZ, August 15, 2009 --(
PR.com
)-- Soilworks®, LLC, the world's leading provider of environmentally safe soil stabilizers and dust control products, announced today the expansion of its headquarters and production facility in Chandler, Arizona. Exponential growth since its establishment in 2003, coupled with a dramatic increase in demand for the company's products and services necessitated the move to new facilities. The office expansion doubles the size of the company's previous office and the new production warehouse is over ten times the size of the previous warehouse.
Soilworks'® new headquarters will enable it to better respond to the growing needs of its customers and will support growth in all of its functional units, including product development, technical services, quality assurance and global business strategy.
The new Soilworks'® production facility services twenty-four (24) rail cars on two parallel rail spurs and the loading station will simultaneously fill and/or empty 4 cars at a time. Raw material shipments and deliveries to customers via rail are scheduled to begin during the month of September. At 30,000 gallons (113,562 Liters) per tanker car, this increased Soilworks'® raw material capacity to 720,000 gallons (2.7M Liters) per day via railway alone (the equivalent of 144 semi-truck hauls per day). The additional loading docks minimize turnaround times for shipping and receiving while the new semi-truck scale house improves quality controls. "The savings associated with strategically utilizing the new rail spurs secures Soilworks'® place as the market leader for environmentally safe soil stabilization and dust control products," remarked the company president, Chad Falkenberg.
In addition to the new production facility, Soilworks'® products are currently toll produced through multiple fortune 500 production facilities nationally and globally. Nationally, Soilworks'® primary toll production facilities are located in California, Georgia, Illinois, Louisiana and Michigan. Globally, Soilworks'® primary toll production facilities are located in Germany, Taiwan, China and Malaysia.
The new corporate headquarters for Soilworks® is located at 2450 South Gilbert Road in Chandler, Arizona, while the new production facility is located less than 10 minutes away.
About Soilworks®, LLC:
Soilworks® provides engineered solutions to the broad needs of the dust control and soil stabilization industry. Whether the market is commercial, industrial, military or residential, Soilworks® has the innovative tools, unmatched technical support and environmentally-friendly technologies to fulfill specific requirements. Soilworks® performance-driven portfolio of industry-leading products include the Patented U.S. Dept. of Defense Surtac®, Soiltac®, Powdered Soiltac®, Gorilla-Snot® and Durasoil®. Soilworks'® international sales network, global distribution centers and integrated customer service provide an ideal platform to satisfy all their customer needs. Get to know Soilworks® better at
http://www.soilworks.com
or call 1-800-545-5420.
###
Contact
Soilworks, LLC - Soil Stabilization & Dust Control
Chad Falkenberg
800-545-5420
www.soilworks.com

Contact