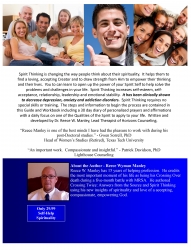 Addison, TX, September 19, 2009 --(
PR.com
)-- "It finally came down to being a simple choice. The demand was high enough for the work that self-publishing made sense. Now, we will shift to marketing to bring about awareness of availability of the work beginning October 15th, 2009," begins Dr. Reece Manley, a spirituality expert and near death experiencer.
"The Wow factor of Spirit Thinking is probably my near death experience on the surface. That experience is covered in much more detail in Crossing Twice, however. The true Wow of the book is the ease at which it can be applied to life," says Reece.
One reader, Michelle P., said she was looking for a spiritual expert or anything to do with spirituality when she picked up a copy of Spirit Thinking. "Not only did this book change the way I look at myself, it changed the way I look at life. I always thought God was angry at me. But, I know now that the Creator, my Creator, is loving and compassionate and powerful!"
Is Spirit Thinking a Christian book? "Yes, yes and no," says Reece. "I am a Christian but this book is Truth regardless of whether you are Christian, Jewish, Muslim or any other faith or no faith at all. We are not marketing to Christians only, but to anyone who needs to know a loving, compassionate, empowering Creator they need not fear. We don't want people to be afraid of God, but rather to celebrate God!"
Spirit Thinking can be found at
www.SpiritThinking.Net
or on Amazon. Spirit Thinking will also be available to major bookstores. Readers and fans can follow the book by signing up on the website. Spirit Thinking will also be up on Facebook and is on Twitter.
Book details:
Spirit Thinking: Your Guide to An Enlightened Life (Non Fiction, 167 pp, self help/spirituality/personal development) is written by spirituality expert Reece W. Manley, DD, M.Ed., MPM, Rev. It is published by CreateSpace at a price of $24.95. It includes a 30 day workbook and has been shown to be helpful in fighting depression, anxiety and addiction issues. The book makes a great gift.
###