Dallas Author and Spirituality Expert Debuts Top Praised "Spirit Thinking" in Spirituality and Self-Development Genre
Advocate USA, in cooperation with Amazon brings, "Spirit Thinking: Your 30 Guide to An Enlightened Life" by Dallas Spirituality Expert Reece Manley to Public as Self Help, Self Development Book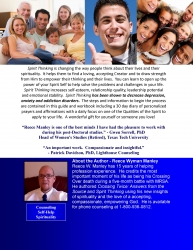 Addison, TX, September 22, 2009 --(
PR.com
)-- Reece W. Manley, DD, M.Ed., MPM, acknowledged spirituality expert and author of "Crossing Twice: Answers from the Source" has published Spirit Thinking: Your 30 Day Guide to an Enlightened Life. The inspirational, self-development, self help non-fiction work appeals to many with a combination of cognitive psychology and spiritual principles to result in a unique work.
"This an exciting read and it gives users a powerful way to apply change to their lives in a step-by-step method," says Craig Matthews, PhD, a reviewer with San Francisco Examiner. "The idea of combining REBT therapy with spiritual principles is a unique and exciting proposition."
Dr. Manley offers, "This is a very personal work. As with 'Crossing Twice', I share some of my life, my near death experience and the spiritual principles I believe appeal to all people of faith. Many will be quick to classify it as a Christian book, which it is, but is also just as effective for Jewish, Muslim, black or white, gay or straight - anyone who believes there is a loving, empowering Creator will benefit from this work. At least that's my hope."
"Spirit Thinking: Your 30 Day Guide to an Enlightened Life" may be ordered at Amazon.com immediately by visiting the Amazon site and searching for "Spirit Thinking" or "Reece Manley". The author has special ordering pricing and offers available at a
special promotional site
. "We've had a little fun at the site, there are an Easter Egg or two to be found.," says Rick Setter of Advocate USA Publishing.
Dr. Manley will be arranging several local book signings in the Dallas - Fort Worth area. Booksellers who would like more information may call 214-329-4145. Reviewers who would like a copy for their publication or report may request a copy at info@advocateusa.net. The public is invited to visit www.SpiritThinking.Net to sign up for newsletters and more.
Reviewer Information and Publicity Documents are linked to this file at PR.Com.
###
Contact
Advocate USA
Reece Manley
800-936-0812
www.SpiritThinking.Net
Reece Manley
reece@manley.net
214-329-4145

Contact
Multimedia
This document contains brief information on both Crossing Twice and Spirit Thinking as well as bio information about the author, Dr. Reece W. Manley, DD, M.Ed., MPM, Rev.