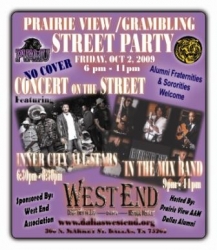 Dallas, TX, September 29, 2009 --(
PR.com
)-- As part of the LIVE! In the West End Free Concert Series (Friday nights September 11, 2009 through November 6, 2009) the West End and the Prairie View A&M Dallas Alumni have joined together to produce the First Annual Prairie View / Grambling Street Party on Friday, October 2, 2009.
The Street Party features two Dallas area party bands: Inner City All-Stars (www.innercityallstars.com) and In the Mix Band (www.inthemixband.com). These bands will have the football fans dancing in the streets. The party continues with great food and drinks provided by the many area restaurants and street food vendors. While strolling Market Street fans will be entertained by the street performers that have made the West End their home, giving the 1st Annual Prairie View A&M / Grambling Street Party a unique vibe.
LIVE! in the West End Free Concert Series is sponsored by the merchant members of the West End Association. The restaurants, bars and retailers of the West End have come together to revitalize the area as an entertainment destination not only for tourists, but for Dallas area residents too.
Remaining Free Concert Dates:
Friday, October 2, 2009 7:30PM – 10:00PM –
Prairie View A&M / Grambling State Block Party
Inner City All-Stars and IN THE MIX
Friday, October 9, 2009 7:30PM – 10:00PM - Chameleon
Saturday, October 17, 2009 5:00PM – 11:00PM
Red River After Party
Brandon Bush Band
Robbie Saunders and the 32-20's
Inner Frequency
Friday, October 23, 2009 7:30PM – 10:00PM – Vital Signs
Friday, October 30, 2009 6:00PM – 11:00PM -
Halloween Block Party
Codger
Model Citizen
About The West End
The West End has once again become the entertainment destination of choice for locals and tourists alike. This resurgence into the Dallas spotlight is due to our award winning restaurants, specialty retail shops, increasing nightlife and street festivals, attractions such as the Dallas World Aquarium, Sixth Floor Museum, Dallas Holocaust Museum, Dallas Segway Tours and our historic carriage rides. The restaurants and attractions of the West End offer entertainment alternatives to a broad range of appetites, interests and budgets. For more information, please visit
www.dallaswestend.org
.
###