Global Warming in Arctic Creating Imminent Global Security and Piracy Issues
MAST 2009 will tap into the future policies and opinions of global-leaders from security and defence to address issues such as security, piracy, etc impacted by the melting of polar ice-caps.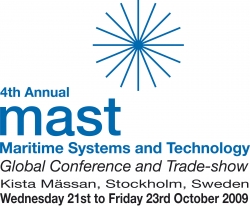 Stockholm, Sweden, October 02, 2009 --(
PR.com
)-- The increased pace of polar ice melt, stresses the need to discuss essential strategic implications regarding national security, geopolitics, global trade, energy, shipping, fishery and the environment.
In a week when the US CNO receives an official briefing on the US' intended policies, countries bordering the Arctic region (e.g. Canada, Denmark, Finland, Iceland, Norway, Russia and Sweden) have all already laid claim - under the United Nations Convention on the Law of the Sea - to new sea routes and portions of the Arctic seabed outside their own continental shelves for shipping, fishery, tourism, and not the least the development of natural resources: the region's huge undiscovered oil and natural-gas reserves (an estimated quarter of the world's remaining deposits), copper, iron ore, cobalt, nickel, diamonds, gold, and high-grade manganese).
However, the prospects of regular Arctic operations are daunting (and expensive) for all players: Search-and-rescue operations and pollution control are particularly difficult given the area's remoteness and lack of access to major ports.
Compared with the rest of the globe, the region remains essentially uncharted…for now: New navigable waterways in the region will bring about the largest shift in global sea routes in modern history and the ensuing increase in shipping, mining, and drilling activity will pose new environmental and safety risks.
"It's no longer a matter of if but when the Arctic Ocean will be open to regular marine transportation and exploration" - Scott Borgerson, Council on Foreign Relations, New York, USA
With a significant increase in naval vessels and merchant ships plying Arctic waters over the past two years (mainly to support mining and cruise-ship operations) competition in the region is heating up: Russia has already planted its flag in the seabed beneath the North Pole, and Canada intends to build several Arctic patrol vessels, a deep-water port, and a cold-weather training center.
Numerous new national security implications are posed by the new Arctic situation, as countries involved increase their maritime presence to protect national interests in the region, and ensure international access to/rights of passage through the new waters (and prevent adversaries from intrusions into national areas of interest).
The lack of a broad legal structure for regional development makes the situation unsettled: a free-for-all in a vast water-and-land mass that is changing almost daily. Whilst the Law of the Sea Convention can tackle many of these issues, it is powerless to deal with others, from military activities to environmental problems. The situation eventually could descend into armed conflict — or at least an Arctic Cold War.
The MAST 2009 conference will address (in addition to established topics /themes on global cooperation towards maritime security and defence) The Arctic situation – new opportunities, new threats. The committee is therefore particularly interested to receive papers that contribute thoughts and ideas towards solutions for the Arctic challenges we are face in this changing world, notably:
New strategies and tactics for the civilian and military surface fleets;
Maritime security including monitoring ship traffic, search-and-rescue operations;
Resources and readiness for environmental disasters.
MAST will feature keynote addresses by General W Trufanov (FSB, Russia) and his counterpart from the US Coast guard/navy, plus:
Swedish State Secretary, Hakan Jevrell;
Rear-Admiral Nils Wang (Chairman of European Chiefs of Navies);
Chris Trelany (Head of Maritime Security, IMO, UK);
Ambassador Hans Corell, Under Secretary General, Legal Affairs/Legal Counsel, United Nations;
Admiral Dino Nascetti, Director General Naval Armaments, Italian Navy, Italy
Rear-Admiral Jorgen Ericsson (Director Plans & Policy, Swedish Armed Forces, Sweden);
Commodore Veli-Jukka Pennala (Chief of Staff, Finnish Navy, Finland);
Rear-Admiral Haakon Bruun-Hanssen (Inspector General, Norwegian Navy, Norway);
Rear-Admiral Arild Inge Skram (Commandant, Norwegian Coast Guard, Norway);
a senior representative from HELLCOM
For more information, visit: www.mastconfex.com/timetable.asp
###
Contact
MAST Global Conference & Trade-show
Warren Edge
+44 (0)1892 824418
www.mastconfex.com

Contact