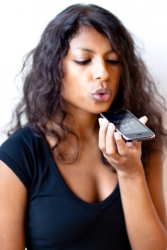 Atlanta, GA, October 16, 2009 --(
PR.com
)-- Khush Inc. announced today that Apple Inc. (AAPL) has approved its reverse karaoke iPhone application after two months in review. LaDiDa uses artificial intelligence to analyze sung vocal tracks in real-time and automatically compose matching music. Users can sing into the iPhone, and LaDiDa will analyze the pitch and structure of the melody in order to generate a unique accompaniment. LaDiDa 1.0 comes with three musical styles that allow users to experiment with different instrumentation.
The product was developed in order to help people with no musical training create songs using only a voice recording. "LaDiDa was built with the average iPhone user in mind," says Khush CEO, Prerna Gupta. "We wanted to keep things as simple as possible so that anyone could create songs with it, regardless of their musical background." To demonstrate the product's simplicity, Gupta has recorded a video that features her singing with the iPhone, which can be found on the company's website. LaDiDa is available for sale in the iTunes App Store for $0.99.
The patent-pending reverse karaoke technology was developed by Khush CTO, Dr. Parag Chordia, who is the director of the Georgia Tech Music Intelligence Lab. LaDiDa builds on previous work in the area of automatic accompaniment, which has focused on professionally trained musicians. "Our approach to reverse karaoke is somewhat different than what's been done before. A significant limitation of previous work was a lack of fine-grained key estimation, a problem that we felt was critical to successful vocal accompaniment, as most people are not anywhere near a perfect pitch," explains Dr. Chordia. Chordia's research applies artificial intelligence techniques in music, such as music information retrieval and digital signal processing, to the area of real-time creativity and has been funded by the National Science Foundation.
Future versions of LaDiDa will be enabled for rap as well as singing and will include additional styles.
About Khush
Khush Inc. develops intelligent music applications for mobile phones. The company was founded by music technology enthusiasts at the Georgia Tech Music Intelligence lab and has received funding from Atlanta-based incubator, Shotput Ventures LLC, and the Georgia Research Alliance. More information about Khush is available on the company website at http://khu.sh. Details about the Georgia Tech Music Intelligence Lab can be found on Dr. Chordia's research site at paragchordia.com.
###