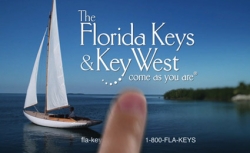 Miami, FL, November 16, 2009 --(
PR.com
)-- There's no app for The Florida Keys. At least, that's the premise and promise behind an unconventional new advertising campaign created for The Florida Keys & Key West by Miami agency Tinsley Advertising. Spoofing the omnipresent iPhone app commercials with their seemingly endless variety of applications, the agency seized the opportunity to trump app-mania, suggesting that the beautiful, natural and personal experiences found in The Florida Keys cannot be digitized nor stuffed into a handheld mobile device.
In a 30-second TV commercial that's both musically and visually reminiscent of the Apple iPhone spots, the viewer is treated to a series of iconic moments throughout The Keys while the announcer repeats the unapologetic claim, "There's no app for this." The spot concludes with the statement, "Real experiences are always worth more. So unplug and reconnect in The Florida Keys and Key West."
"We saw the opportunity to buck a trend," said Tinsley Senior Copywriter Mark Slatko. The agency is also launching a "No App" app to use on actual iphones. "Technology is great, but there are some things you need to experience live and in person, like the Florida Keys," said Tinsley Executive V.P. Creative Director Dorn Martell.
The Monroe County Tourist Development Council considered a number of creative approaches for their 2009 - 2010 winter season, and ultimately there was broad consensus among TDC members in favor of the "No App" spot. "We determined that the 'No App' concept was the most timely and certainly the most thought provoking," said Harold Wheeler, Director, Monroe County Tourist Development Council. "We're very much looking forward to the launch of the campaign," he added.
The television spot will debut on the web in November and segue into national media in January, including a national print campaign. The Florida Keys' "No App" iPhone application will be available for download through iTunes.
Tinsley Advertising was founded in 1974 by Sandra Tinsley, and has grown into one of the largest independent advertising agencies in the Southeast. Today the agency has a roster of regional and national accounts in industries such as Hospitality, Tourism, Entertainment, Healthcare, Retail, Real Estate, Education, Sports Marketing and Food & Beverage. Tinsley clients include The Florida Keys & Key West, Nova Southeastern University, Miami Children's Hospital, SuperClubs Resorts, Bascom Palmer Eye Institute and University of Miami Athletics.
###