Pastoral Counselor and Christian Living Author Reece Manley Gains Top Book Honors at Pacific Book Review
Pacific Book Review Named Pastoral Counselor and Christian living writer Reece Manley with its Book of the Month designation.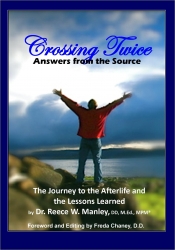 Addison, TX, November 19, 2009 --(
PR.com
)-- Professional pastoral counselor Dr. Reece W. Manley, DD, M.Ed., MPM, has garnered another laurel for his recounting of his near death experience Crossing Twice: Answers from the Source. This award came in the form of being named the "Featured Book" on the independent book review site Pacific Book Review.
"Crossing Twice recounts the inspirational story of Dr. Manley's near death experience, journey through the veil and ultimate joining of the love and light that awaits us all on the other side. The book is written from a progressive Christian prospective, but is respectful of all spirituality and faiths. The book also takes the reader through Dr. Manley's life challenges – incest, beatings, and neurological disease. But, rather than sit in misery, this book sings with hope, love, inclusion and power!" says one review.
Reece Manley is a pastoral counselor in Addison, Texas, through a private practice called Horizons Counseling Services located at www.myhorizons.org. "I do the majority of my pastoral counseling via phone and Skype," says Dr. Manley. "Because of my disability, I simply find it more comfortable to provide service using the newest technologies. Plus, it allows me to work with people all over the world. From a U.S. Senator to an indigent man in Australia through our charity outreach program, I'm unfettered by physical location."
Crossing Twice: Answers from the Source is only one in a series of books inspired by Dr. Manley's spiritually transformative experience. Spirit Thinking: Your 30 Day Guide to Enlightenment is also available while Spiritual Recovery: Seven Steps to Freedom will be forthcoming in 2010.
"Again, I'm very touched by the award and so honored to be counted among my literary heroes. While my writing may be considered progressive Christian living, I am hopeful it touches anyone interested in their own spirituality and their own walk with their Creator. God's love is for all and is the only unlimited resource in the Universe. That's my message."
Dr. Manley is available for pastoral counseling and may be contacted via his website at www.myHorizons.org or by calling 1-800-936-0812. His books are available online at Amazon, in select retailers and at
www.SpiritThinking.net
.
###
Contact
Advocate USA Publishing
Rick Setter
800-936-0812
www.advocateusa.net
Author direct at 214-206-0607

Contact