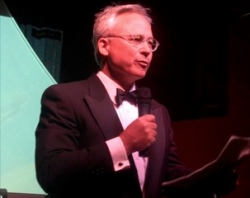 Fort Lauderdale, FL, November 20, 2009 --(
PR.com
)-- Comedian Wil Shriner launches a comedy auction campaign to help raise monies for charity. The actor/writer/producer/host who has been involved with dozens of charities over the years, decided to standup to help raise money, using humor to pry open people's wallets and purses.
"In these times, charities are having as much trouble raising money as the rest of us. The economy is so bad, last week I had to lay off two of my kids." Wil Shriner joked.
www.raisethefunny.com is a new enterprise Wil hopes will make a difference when it comes to getting people to stay in the room during the auction and spend their money. Wil said he has sat through too many loud and long boring auctions, so he decided to take a different approach. "Most often at a gala or dinner when the auction starts people tune out, step out or disengage. Why not make the auction entertaining and funny? That way we keep the entire audience interested and raise more money for the cause."
In the past year alone, Wil has raised over $4,000,000 for a variety of worthy causes including the Young Eagles program, the Everglades Foundation, Joe DiMaggio Children's Hospital and the Saint Joseph's Children's Home. "When I MC an event, I want it to move along, and be something people will look forward to attending again and most importantly not an endurance test. Any fund raising program should follow three basic rules captivate, motivate and participate." Wil and his auctioneers work personally with each event to make the evening a success.
Wil likes to use humor to help make a difference in people's life. "If we can't laugh, the world can look pretty bleak. Comedy is a great motivator." His approach is mirrored in his work as a director (Frasier, Becker, and Gilmore Girls) as Wil's last film, HOOT taught kids a valuable lesson about standing up for something one believes in.
The key to raising big money is getting great items for the auction that people will actively bid on. At the EAA auction the shoes and flight jacket of the the US AIR co-pilot Jeff Skiles who safely landed on the Hudson river raised over $40,000 for the Young Eagles program which he now heads up along with Captain Sully Sullenberger.
Wil's advice, "Help wherever you can, use new thinking and approaches to fundraising and money will be all the easier to find. Last Christmas, Wil and the Shriner family donated over 4000 vintage harmonics from his late father Herb Shriner's collection to our troops in Iraq and Afghanistan. "I can not tell you the joy we got reading emails from all the service men and women who sent pictures from over there."
So this year what counts to Wil is helping to make a difference for charities,
by not only raising the money but also raising the funny.
For more info www.raisethefunny.com
or
Contact Bob Cosgrove at South Ocean Entertainment
email turboprop53@earthlink.net
Wil Shriner web site www.wilshriner.com
###