Advocate USA Publishing's Christian Living Writer Reece Manley Donates Proceeds to Feed 400 Families
Spirit Thinking and Crossing Twice Shows Spirituality Expertise Requires Compassion First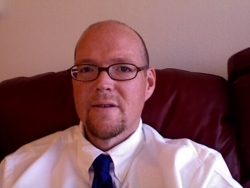 Las Vegas, NV, December 09, 2009 --(
PR.com
)-- New Christian living writer put his money where his love is on December 2 by donating 100% of all November sales proceeds of his Christian living books Crossing Twice: Answers from the Source and Spirit Thinking: Your 30 Day Guide to Enlightenment. The amount of the donation will feed approximately 400 hungry families in the southeastern United States.
"Sometimes the needs are greatest here in our own backyards," says Dr. Manley. "Feed the Children has always been a very important charity for me and I am blessed to be able to pass on something very tangible and immediately appreciated. The hunger is real. The cold and homeless in our country are real. They are our friends and neighbors, sometimes so close, but we don't know the suffering they face. I hope that Advocate USA Publishing's donation will make a difference."
Advocate USA Publishing a division of Advocate USA, LLC, did not disclose the exact amount of the rolling donation but according to Feed the Children's website the donation will touch about 400 families in rural Texas, Arkansas and Alabama. "These were the areas which seemed to be receiving the fewest donations this holiday season so we were happy to make a little bit of difference," says Rick Setter of Advocate USA Publishing.
Dr. Reece W. Manley, DD, M.Ed., MPM's Christian living books sales proceeds were swift in November with both Crossing Twice and Spirit Thinking establishing local retailers in the Dallas/Ft. Worth area and through the www.SpiritThinking.net website. "We are also up on Amazon but we generally pursue direct sales routes," said Mr. Setter. "Our most exciting offer is an
autographed copy of Crossing Twice
for Christmas."
Reece Manley's works can be purchased at www.SpiritThinking.net or Amazon.com. "Or, just ask your local book retailer," adds Mr. Setter. Dr. Reece Manley is an emerging spirituality expert and authority on the Christian living genre. "I am, and I write from, a progressive Christian viewpoint. I am respectful of all faiths. I just want people to be aware of God's love for them and God's desire to be a part of their daily lives," says Reece.
More information can be found at www.SpiritThinking.net and the charity can be located at www.FeedtheChildren.org.
###
Contact
Advocate USA Publishing
Rick Setter
800-936-0812
www.advocateusa.net
Author direct at 214-206-0607

Contact